Details
2022-09-22T00:00:00-04:00
2022-09-23T00:00:00-04:00
Contact
Buncombe County Government
Information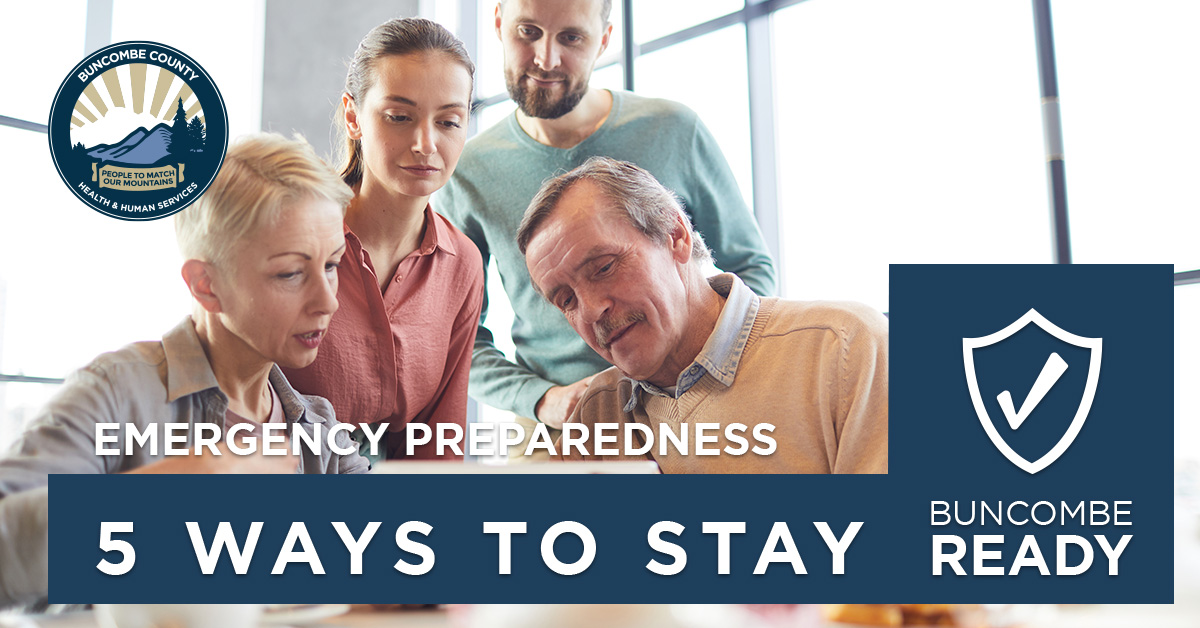 The COVID-19 pandemic continues to evolve and we continue to adapt. It challenges us as individuals and as a community to understand how our everyday activities impact the health and safety of those around us and how we can prepare ourselves for future waves. As an agency focused on the health and safety of our residents, Buncombe County Health and Human Services strives to ensure that everyone has the opportunity and resources to live well. During National Preparedness Month, our Preparedness Team has made a list of the 5 most important steps we can take to protect your health and the health of your loved ones, friends, and community.
Stay Up to Date on Vaccinations
Vaccines create a shield of protection around vaccinated individuals, warding off illnesses like measles, mumps, and smallpox and help to reduce severe illness and deaths for illnesses like the Flu and COVID-19. Our community's shield of protection grows stronger as more individuals get vaccinated. Being vaccinated and adding to our community's shield of protection is essential to staying Buncombe Ready.
Buncombe County Health and Human Services Immunizations Clinic- (828) 250-5000
Know Your Testing Locations
Quick testing and identification of illness is important in stopping the spread of disease. Know where you can get testing in your community for seasonal illnesses like Flu, COVID-19, STIs, and other communicable diseases.
At-home test kits are also available for some illnesses like COVID-19. Now is the time to test kits in your home ready for use if you have symptoms.
Did you know that all non-monogamous, sexually active individuals should be tested for STIs regularly? The CDC recommends testing every 3 months but, depending on the number of partners and type of sexual activity, it may need to be more frequent.  Regular testing is an essential part of being a responsible and respectful sex partner.
COVID-19 Testing Locations in NC
Buncombe County Health and Human Services STI Testing and Treatment- (828) 250-5000
Stay Home/Wear A Mask When Sick
Among the best strategies to reduce the spread of germs to others is isolation. Staying home and away from others when feeling sick significantly reduces the risk of spreading illness.
Wearing a mask after you've isolated or when the disease is spreading at high levels is also recommended. While it won't stop all transmission, it can reduce the rate of transmission for some illnesses like the common cold, flu, and COVID-19.
Click Here for More Information
Make A Plan
Having a plan in case of a public health emergency like a large-scale outbreak or a natural disaster (flood, ice storm, fire) is an important way for residents to remain Buncombe Ready. Knowing where to receive care like testing and treatment, mapping out evacuation routes, locating area disaster shelters, maintaining a preparedness kit,  and having photos of important documents will ensure that you and the people you are close with will have the resources you need in the case of an emergency.
Click Here for More Information
Stay Informed
If there's one thing the pandemic has taught us, information and knowledge can evolve as quickly as the event or disaster. It's important to stay on top of new developments and information.
CodeRED Alerts allow Buncombe County officials to send emergency alerts to residents in real-time using email, phone, and text. All residents are encouraged to visit buncombecounty.org/codered or text BCAlert to 99411 to enroll in the CodeRED system. For more information on the CodeRED notification system or registration, please contact prtea[email protected]. or call CodeRED support at 1-866-939-0911.