Details
2023-10-01T00:00:00-04:00
2023-10-02T00:00:00-04:00
Information
A POLICY & PLAN FRAMEWORK FOR NATURAL SURFACE TRAILS IN THE CITY OF ASHEVILLE, NORTH CAROLINA
UPDATE: Your input is needed for our AVL Unpaved Public Survey
The first phase of the AVL Unpaved trails are moving forward, and we are seeking community  input to design trail kiosks and signs that will best support trail users. Take the AVL Unpaved Public Survey at this link to contribute. The survey will be open from September 11th – November 11th.
What are the AVL Unpaved Trails?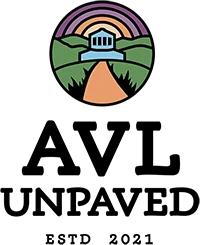 AVL Unpaved Alliance, in partnership with the City of Asheville, hired Elevated Trail Designs to design a series of natural surface trails in the undeveloped forested pockets of Asheville. In 2022, thanks to generous community support and grant funding through Explore Asheville, three initial projects were identified: Bacoate Branch, French Broad River West, and Azalea Park.