Details
2021-09-08T00:00:00-04:00
2021-09-09T00:00:00-04:00
Contact
Henderson City Government
Information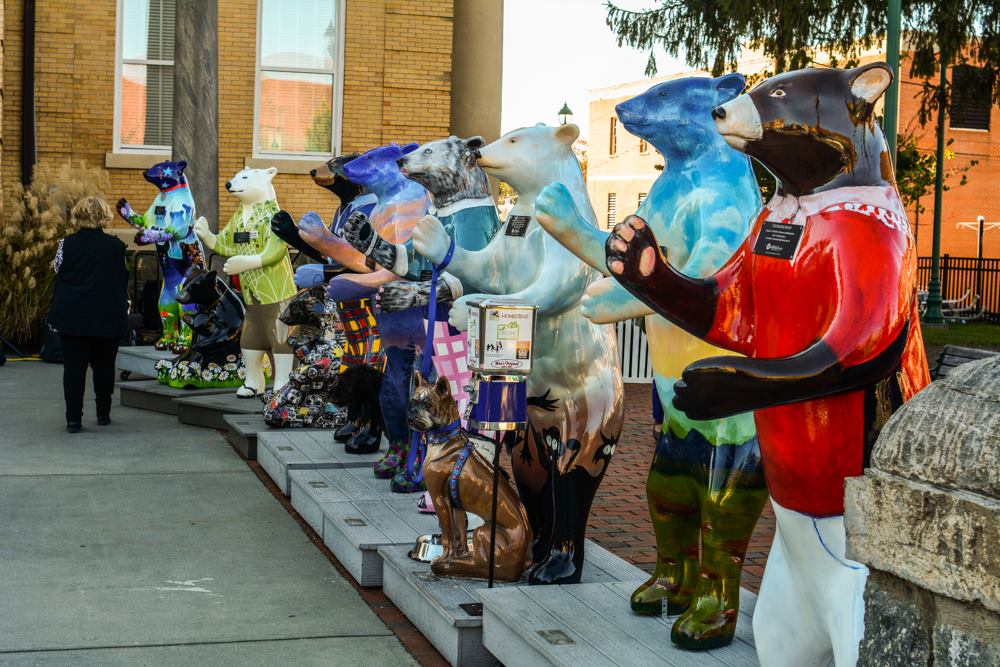 About Bearfootin' Art Walk
Since 2003, the Bearfootin' Art Walk has helped raise funding for Downtown Hendersonville and a variety of local non-profits. In addition to raising funds, the bears offer a window into good work being done by community organizations in Henderson County.
The Bearfootin' Bears arrive as blank slates before local artists transform each in a spectacular fashion, with creative themes ranging from Mona Lisa to Blue Ridge Mountain scenery. After the "Reveal" event in early May, the bears then take up residence in downtown Hendersonville for the duration of the summer and fall, up until auction. Participants bid during the auction to raise funds for local non-profits and Downtown Hendersonville. Winning bids up to $3,000 are split evenly between the downtown program and the non-profit chosen by the sponsor, while bid amounts exceeding $3,000 are directed entirely to the non-profit. In 2020, the Bears raised more than $84,000, and in 2021 we hope to continue the tradition of giving.
---
2021 Bearfootin' Auction
The 2021 Bears are currently stationed along Main Street until the auction in October. Check out our 2021 Bearfootin' Bears!
Until 2020, the Bearfootin' auctions were hosted in traditional style with a live auctioneer. Then, in response to the pandemic, Friends of Downtown Hendersonville pivoted to a virtual format for the 2020 auction. The virtual bidding format allowed people to bid over the course of a month until a scheduled bidding cutoff. This turned out to be a big success, with the 2020 auction raising more than $84,000. 
For the 2021 Auction, the Downtown Events Team and Friends of Downtown Hendersonville staff are incorporating the virtual bidding format with an in-person event. This means bidders will be able to begin bidding as early as September 15, 2021. Bidding will come to a close with an exciting in-person event on October 16 from 4-6:30pm, with all bidding closing at 6pm.

What You Need to Know About the 2021 Bearfootin' Bear Auction:  
Bidding begins on September 15, 2021 at 12pm and ends at 6pm EST on October 16, 2021. Stay tuned for the release of the bidding platform closer to September 15!

 All bidding will occur virtually. There will be no in-person bidding. However, there will be live bidding via phone/computer up until the bidding cut off at 6pm on October 16.

 It's free to register to bid, and you can bid anytime between September 15 and the deadline at 6pm on October 16. Initial bids will take place via the bidding website (stay tuned for link!). Bidders will receive automatic text message notification if they are outbid with the option to submit a new bid directly via text message.  

There will be an in-person countdown celebration on October 16 from 4-6:30 pm on the outdoor plaza at the Historic Train Depot at 650 Maple Street. The event will have a lively atmosphere with bells and cheers at each incoming bid, as well as live music, beer/wine and food trucks. The event is free and open to the public. While there will be no in-person bidding at the event, attendees can bid live via their cell phone. There will be an event information booth to help attendees get registered and begin bidding.

There will be no proxy bidding. Bidders will receive automatic text notification if they are outbid with the option to submit a new bid. There are no reserve/proxy bids, meaning you can't set a price that the system will automatically bid for you. If you are outbid, you will need to place a higher bid if you wish to continue.   

Starting bids for all bears will be $1,500 and minimum bid increments are $100.  

 Any bear can be purchased at our "Buy Now" price of $10,000. The "Buy Now" option ends Thursday, October 14 at 5 p.m.

Bidders do not have to attend the in-person event to be a winning bidder. For those who can't attend the in-person event on October 16, we will conduct a virtual Facebook Live event of the auction on the Downtown Hendersonville page. We will start the off by introducing the bears and providing information about how to bid before the clock runs out. All bidding is automatically cut off at 6pm on October 16.

Winning bidders will be contacted regarding payment and picking up their bear via text and email. Bears can be picked up at the event, or during a scheduled "pick up window" the week following the event. Winners have 5 days to pay or they will be automatically charged on the credit card filed. Alternatively, winners can pay with cash or check. There will be a 2.95% processing fee on all credit card transactions.