Buncombe County Board of Commissioners Recognizes June as Pride Month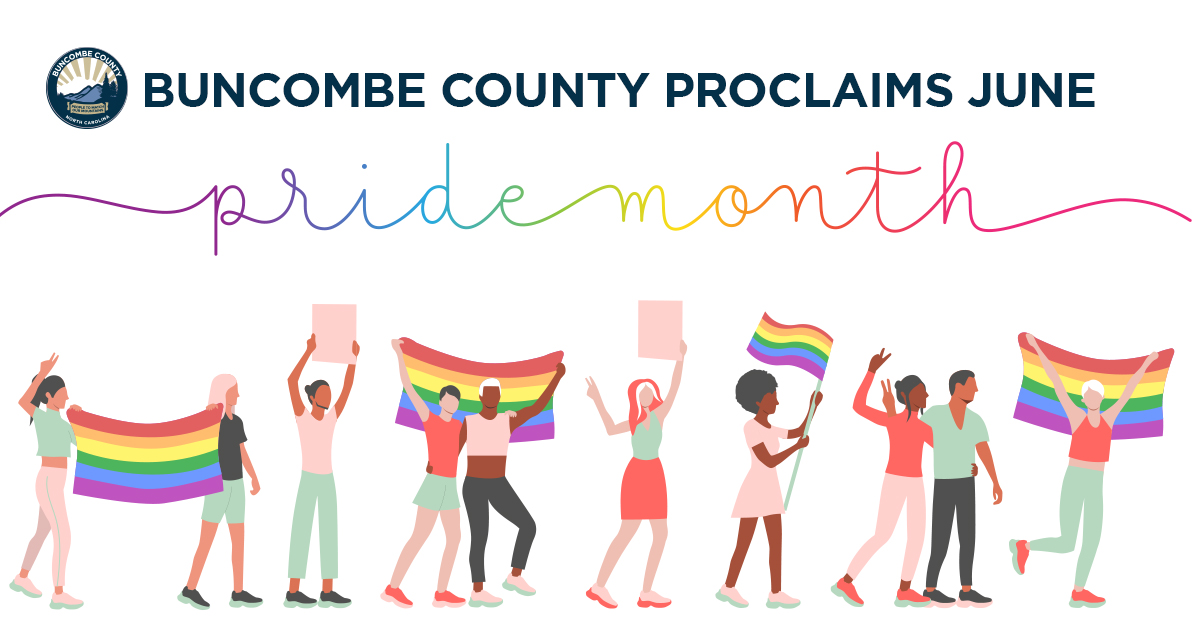 At their June 1, 2021 regular meeting, the Board of Commissioners recognized Pride Month with the adoption of the County's first ever Pride Month Proclamation.
Employee Merry Michalsen accepted the proclamation on behalf of the LGBTQIA+ Human Resources Advisory Group: "While Pride Month can be full of symbolic gestures, our hope for this proclamation is to be a true testament and commitment to the work Buncombe County is doing to improve wellbeing for all of our residents. This is particularly true for those who have been systematically marginalized simply for being who they are or for who they love."
In the adopted 2025 Strategic Plan, equity is recognized as a foundational focus area, and defined as systems, policies, and practices that support equity for all people, and an organizational culture that embraces diversity and inclusion.
In a move that also bolstered their commitment to increasing equity, the Board approved a non-discrimination ordinance during their April 20 meeting and goes into effect on July 1.
"This is a historic moment – the first time Buncombe County has issued a proclamation in honor of Pride Month," said Commissioner Jasmine Beach-Ferrara. "I'm very honored to be part of this."
The proclamation reads:
Whereas, the battle for dignity, equality and personal safety for lesbian, gay, bisexual, transgender and questioning, intersex and asexual people is reflected in the tireless commitment of the LGBTQIA+ community, as well as dedicated advocates and allies who strive to forge a more inclusive society;
Whereas, each year, the month of June honors the 1969 Stonewall riots at the Stonewall Inn in New York City, frequently referenced as the start of the modern LGBTQIA+ rights movement in the United States, now celebrated with Pride month events nationwide;
Whereas, it is important to take time during this month to reflect on the LGBTQIA+ rights movement and the important progress that has been made;
Whereas, more than 35,000 of our neighbors in Western North Carolina identify as LGBTQIA+; and
Whereas, a recent survey at UNC-Asheville revealed that a third of the students don't identify with conventional binary, heterosexual stereotypes; and
Whereas LGBTQIA+ individuals across the United States, including those who live in our local community, continue to face hate and discrimination simply for being who they are and for who they love and there remains much work to do to extend the promise of our country to every person; and
Whereas, Buncombe County's Non-Discrimination Ordinance recognizes that it is in the best interest of the residents of Buncombe County to enact protections against discrimination that reflect the community's shared values of equality, inclusion, and fair access, and to preserve the health, safety, and welfare of people without regard to certain actual or perceived status or characteristics;
Whereas, Buncombe County has recognized the importance of equity for all as a core value in their Strategic Plan;
Whereas, as an employer, Buncombe County has the opportunity to provide a safe and inclusive workplace for all employees and be a proud supporter and leader towards LGBTQIA+ equity in Buncombe County. While there is much work to be done, we are committing to a better future by showing up as Rachel Macy Stafford once wrote: bravely, boldly, flawed and full of hope. Now be it resolved that we proclaim June as Buncombe County Pride Month.