Details
2019-10-16T00:00:00-04:00
2019-10-17T00:00:00-04:00
Information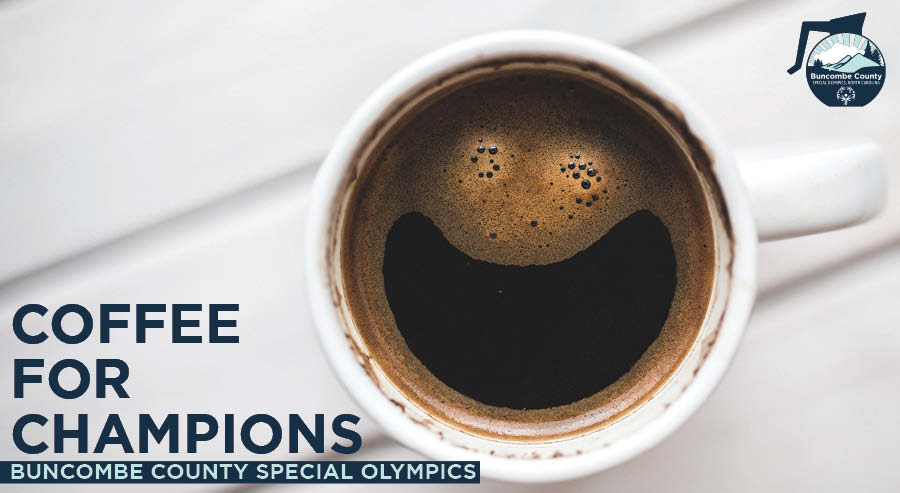 Buncombe County Special Olympics' annual Coffee for Champions fundraiser returns for a third year on October 1. During the month of October, local coffee shops donate up to five cents for each cup of coffee purchased at their establishments to support Special Olympics training and competitions for area youth and adults.
"We are a completely volunteer-driven, donation-funded program focused on inclusionary sporting opportunities for individuals with intellectual and physical disabilities," said Karla Furnari of Buncombe County Recreation Services, who is also a Buncombe County Special Olympics coach and Local Coordinator. "Coffee for Champions helps build connections between our athletes and the community. It also allows us to move away from labor intensive fundraising campaigns that often pull volunteers from other critical program needs such as coaching and transporting athletes."
A map on the organization's website lists participating coffee shops:
Donating Five Cents Per Cup

Ivory Road Café & Kitchen (1854 Brevard Road in Arden)
Mosaic Café & Coffee House (1 Town Square Boulevard in Biltmore Park)
Trout Lily Market (1297 Charlotte Highway in Fairview)

Donating One Cent Per Cup

Dynamite Roasting Company (3198 US Highway 70 in Black Mountain)
PennyCup Coffee Company West (362 Depot Street in Asheville's River Arts District)
PennyCup Coffee Company East (6 Beverly Road in Asheville's Haw Creek)
PennyCup Coffee Company North (857 Merrimon Avenue in North Asheville)
Round Earth Roasters (518 Hendersonville Road in Asheville)
Buncombe County Special Olympics is made possible through funding from donors and support from Buncombe County Government. To donate or volunteer, visit buncombecountyspecialolympics.org.
Special Olympics was founded by Eunice Kennedy in 1968 to celebrate changing attitudes about the talents of people with intellectual disabilities. Buncombe County Special Olympics provides year-round sports training and athletic competition for youth and adults. Sports include alpine skiing and snowboarding, aquatics, athletics, basketball, bocce, bowling, cheerleading, gymnastics, powerlifting, soccer, and tennis. The organization also offers the Adaptive Athlete Program in a partnership with South Slope CrossFit and Buncombe County Recreation Services.