Details
2020-08-15T12:00:00-04:00
2020-08-16T12:00:00-04:00
Information
Around The Web
Live-streamed performances, resources, and activities we love from around the web, updated weekly.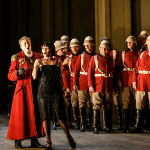 Glyndebourne Presents Handel's Giulio Cesare
Enjoy a special rebroadcast of Handel's Giulio Cesare on Sunday, August 9 at 12:00pm ET (5:00pm BST). This 2005 performance is directed by David McVicar and conducted by William Christie. The video will be available to stream on YouTube for one week, until noon on Sunday, August 16.