Details
2021-09-14T00:00:00-04:00
2021-09-15T00:00:00-04:00
Contact
Buncombe County Government
Information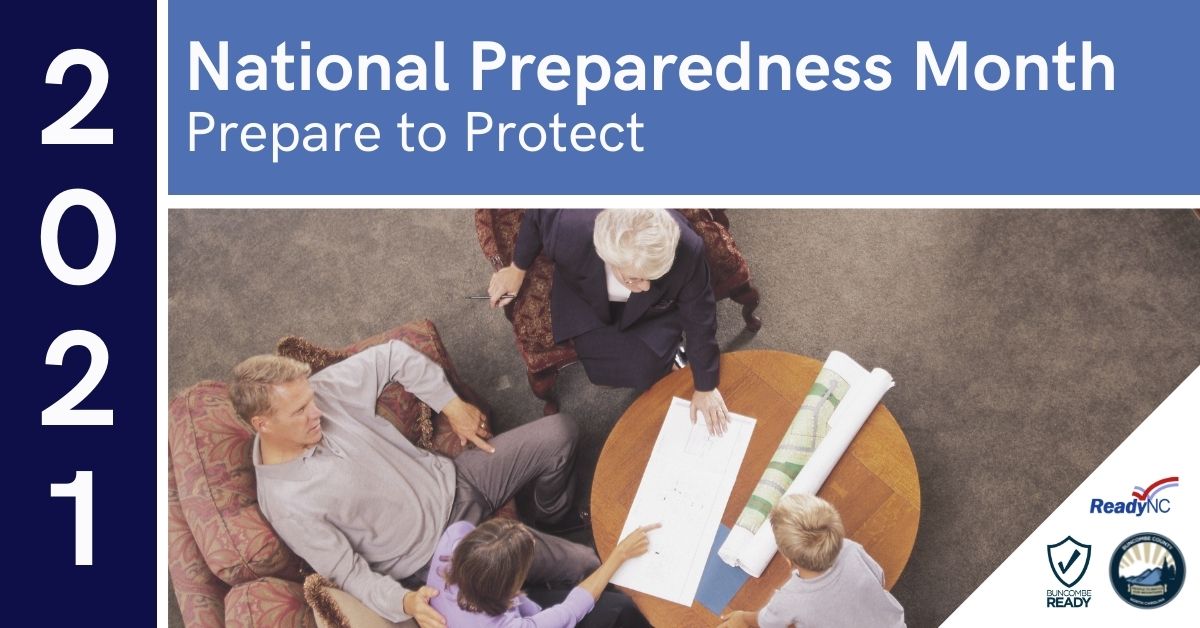 September is National Preparedness Month and this year's theme is Prepare to Protect.  In 2020,  North Carolina experienced 247 flood events and 609 severe thunderstorms with damaging wind and hail. Weather events, the global pandemic, and even a 5.1 earthquake, are stark reminders that disasters can happen quickly. "Emergencies and disasters can happen at any time and we want individuals, families and our entire community to be Buncombe Ready," says Buncombe County Public Health Preparedness Director, Fletcher Tove. "The recent flash flooding events serve as a reminder that families and individuals need to have a plan in place for unexpected disasters."
Each week in September, the national campaign will be highlighting different aspects of preparedness planning to encourage residents and communities to consider their options in the event of an emergency.
COVID-19 Vaccination 
The most important thing you can do to protect yourself and your family is to get the COVID-19 vaccine if you have not already been vaccinated. COVID-19 vaccines are safe, effective, and are our best chance to defeat the virus. The COVID-19 vaccine may not keep you from getting the virus, but it is highly effective at reducing severe illness, hospitalizations, and death in vaccinated individuals. Additionally, as more people get vaccinated, the virus loses the opportunity to evolve into new variants. Getting the vaccine is vital to the safety of our community and ensures that you and your family are taking the most important step in being prepared for this real, disaster-level virus.
Click here, to find a vaccine provider near you.
Week 1 September 1-4: Make A Plan  
Active communication with your loved ones is crucial before, during, and after a disaster or emergency. Discuss a shelter plan, an evacuation route, a family communication plan and review the items in your emergency preparedness kit when composing a plan with your household. You should also establish a family meeting place that is familiar and easily accessible in case you are not together when disaster strikes.
Click here, for a guide to developing a household preparedness plan.
Week 2 September 5-11: Build A Kit  
There is a chance that you and your family may have to stay put in a designated area for several hours or days in the event of an emergency or disaster. It is important to have a kit ready with food, water and other supplies that can last your entire household at least three to seven days. You need to compile all supplies in an easy to carry container before an emergency so that it is ready at a moment's notice. Consider unique needs of family members and pets when putting together your kit and make sure that all of the members of your household are aware of its location.
Due to the coronavirus pandemic, make sure to include extra protective face masks, soap, hand sanitizer and disinfectant wipes in your kit.
Click here, for a comprehensive list of supplies to include in your emergency kit.
Week 3 September 12-18: Low-Cost, No-Cost Preparedness  
Learn more about the risk of disasters in your area in order to limit their impacts on you and your family. Residents of Buncombe County can sign up to receive time-sensitive emergency alerts with the Buncombe Alerts emergency notification system. You can choose one or more options for receiving notifications, including landline, cellphone, text message, email, TTY, and the CodeRED mobile app.
Click here, to sign up for Buncombe Alerts.
Week 4 September 19-25: Teach Youth About Preparedness  
Household members of all ages can and should get involved in making a preparedness plan and putting together an emergency kit. Getting kids involved in planning can ensure that they know what to do in the event of an emergency or disaster, especially if you are separated at first.
Click here, to find out more about how to involve youth in different aspects of preparedness planning.
The bottom line is that simple steps such as making a family disaster plan, creating an emergency supply kit, and signing up for your county's emergency notification system are smart, cheap, and easy to do. Additionally, www.ReadyNC.org is a great resource for disaster preparedness in North Carolina. The site features resources and videos in multiple languages including American Sign Language. Prepare to Protect by taking these simple steps today!