asheville.com community news
Do You Have Voter Registration Questions?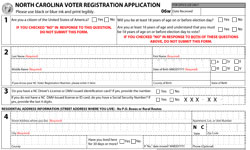 As election time approaches, don't wait to make sure you are registered and make any address changes on your registration. The deadline to make any updates or to register as a new voter in Buncombe County is October 12.

Find out the answers to the following voter registration questions in the Registering to Vote Section of the website:

Am I already registered to vote in NC?

Who can or who needs to register to vote?

What are voter identification requirements?

How do I and where can I register to vote?

How do I change my voter registration?

What are the deadlines to register to vote?

When will I get my voter registration card?

For more information you can call the Board of Elections at 250-4200.

(Image provided by Buncombe County.)

Looking for more happenings in the area? Check out asheville.com's comprehensive visitor center.




all contents copyright © 2011, asheville.com. contact: [email protected] or 828.253.2880
For listing and advertising information...