Details
2022-06-28T10:00:00-04:00
2022-06-28T16:00:00-04:00
Contact
Buncombe County Government
8282504200
Information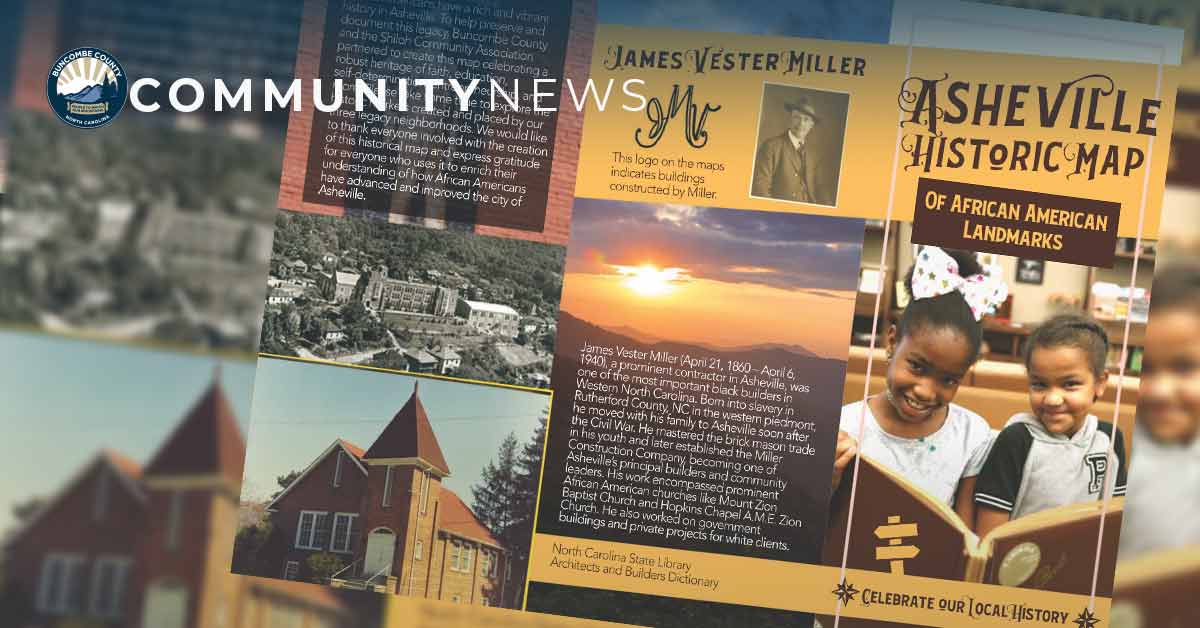 As Buncombe County prepares to honor Juneteenth, the County has partnered with the Shiloh Community Association to release historic maps of African American landmarks. These maps identify the historical landmarks and markers that outline the rich and vibrant history of African Americans in Asheville and Buncombe County.
Free maps are available at the following locations:
Buncombe County Register of Deeds, 205 College St., Asheville, available Monday-Friday
Pack Memorial Library, 67 Haywood St., Asheville, available Tuesday-Saturday
Asheville Area Chamber of Commerce, 36 Montford Ave. Asheville, available Monday-Friday
Buncombe County tent at the Freedom Festival, a celebration of Juneteenth on Saturday, June 18 at Pack Square Park, Asheville
Please note that in observance of Juneteenth, the Buncombe County Register of Deeds will be closed on Friday, June 17, and the Pack Memorial Library will be closed on Friday, June 17 and Saturday, June 18.
The Asheville Historic Map of African American Landmarks takes readers on a tour of the Burton Street, East End/Valley Street, Southside, and Shiloh communities, noting historically African American neighborhoods, landmarks, churches, cemeteries, and lynching memorials. The map also details the contributions of James Vester Miller, one of the most prominent Black builders in Western North Carolina. His work is represented through the construction of many prominent African American churches, government buildings, and private projects for white clients.
The map also includes the lynching memorials, which were installed in October, 2021 to honor the lives of Mr. John Humphries, Mr. Bob Brackett, and Mr. Hezekiah Rankin. This Buncombe County Remembrance Project installation is part of the County's partnership with the Equal Justice Initiative's Historical Marker Project that collaborates with communities to memorialize documented victims of racial violence that occurred from 1877-1950, as well as to foster meaningful dialogue about race and justice.
To request maps or to learn more, email [email protected].
Learn more about Juneteenth here.