Calendar of Events
Upcoming events and things to do in Asheville, NC. Below is a list of events for festivals, concerts, art exhibitions, group meetups and more.
Sunday, August 25, 2019
Join us for a FUNtastic day of family-friendly fun, organic eats, live music, shopping at the Organicfest Marketplace & Greenstreet, Natural Arts & Crafts and plenty of eco- friendly fun for the little ones!
Asheville Community Theatre RALLFE $10,000 Cash
We've sent three lucky winners to London and one lucky winner to Hawaii – but in this summer's raffle, someone's going to win $10,000! Heck, you could go to BOTH London and Hawaii if you won (fly coach, stay in hostels?) Or build that outdoor firepit you've seen on HGTV, or rent a super swank beach house for a week, or anything you want, really, because it's your $10,000!
Raffle tickets are $50 and only 500 will be sold! And proceeds from every ticket you buy supports operations and programming at Asheville Community Theatre!
ELIGIBILITY: Present employees of Asheville Community Theatre and any immediate family members residing with the employees are not eligible to participate. Must be 18 years or older to enter. Contest void where prohibited. You need not be present to win.
Beer City Cup Adult Soccer Tournament is in need of volunteers
Beer City Cup 2019
Thank you for your interest in volunteering at the beer tent for the Beer City Cup Soccer Tournament representing Buncombe County Special Olympics. If you choose to volunteer then you will get a tshirt and a beer token for after your shift. Please note that you will be standing the entire time of your shift.
Calling all soccer lovers. Beer City Cup Adult Soccer Tournament is in need of volunteers. Proceeds benefit the Buncombe County Special Olympics. Volunteers are needed to pour beer at the beer tents.
Certified Nonprofit Professional Classes
Fast Track Your Nonprofit Career!
This extremely hands-on Leadership Development Program is proven to position professionals for long-term employment success.
How it Works
After completing the core requirements, students are awarded the CNP credential, which gets uploaded to LinkedIn and other digital platforms. Throughout the program, students receive career support and assistance connecting to nonprofit employers.
CNP Course Modules (approximately 12 months to complete)
The following courses makeup the curriculum required for the Certified Nonprofit Professional (CNP). Each course starts with a one-day workshop at the WCU Biltmore Park Instructional Site, that will be held on a Thursday or Friday, and is followed by 4 weeks of online content with discussion boards, presentations, and weekly assignments. There is approximately one week in between each course and a holiday break after the third course.
CONVERTIBLES NEEDED FOR APPLE FESTIVAL PARADE, Monday September 2nd 2019
Do you have a Classic, Antique, or Newer Convertible?  Do you know someone who does?  We need Convertibles for the Henderson County Apple Festival Parade on Monday September 2, 2019.
Bring your Classic, Antique or Newer Convertible to the "Top Notch Towing" on  Asheville Highway  ( Hwy 25) across from the "old Boyd New Car Showroom at 1 PM on Monday, September 2nd, 2019.  Convertibles are needed to drive a number of VIP's, Apple Festival President, Apple Festival Grand Marshall, Past President of Apple Festival and other VIP's..
   It is anticipated that we will need an increased number of Convertibles this year to carry Apple Festival Dignitaries, Veterans, and  other VIP's.
Apple Festival VIP's will be assigned to each car; magnetic signs designating the VIP will be placed on the respective cars.
Railroad Heritage Weekend
A Once-a-Year Event for Railroad Enthusiasts of All Ages!
Celebrate the golden age of steam locomotives behind Tweetsie's historic coal-fired, steam locomotives. Special attractions for rail fans, plus enjoy all of the Wild West adventure Tweetsie has to offer!
Explore the History of the French Broad Riverfront in Asheville with RiverLink's Bus Tour
The RiverLink bus tour, offered through Leap Frog Tours, is an opportunity to learn the exciting history of the French Broad River and its important role in the development of Asheville. Participants will also learn about current improvements along the French Broad River and what is expected in the coming years to make the River and Watershed a better place to live, learn, work and play.
Tours run from 10 AM-1 PM on the first Thursday of the month from March-November. Tour groups meet at the parking lot of New Belgium Brewing in the River Arts District of Asheville. Cost is $45 with a portion of the proceeds donated to RiverLink to support their mission to promote the environmental and economic vitality of the French Broad River and its watershed.
For more information and to register visit: https://tinyurl.com/BookRiverLinkTourToday
Summer Exhibitions at Momentum Gallery
Momentum Gallery in downtown Asheville hosts new summer exhibitions – Mariella Bisson, Setting Shapes; Oil paintings by two new painters: Samantha Keely Smith and Paul Sattler; and a group invitational called Give Me Wood. These exhibitions continue at 24 N Lexington Avenue through the end of August.
Mariella Bisson deftly delineates the sculptural planes of regional waterfalls and sylvan scenes creating refreshingly contemporary landscape paintings. Her oil-over-collage paintings feature built-up texture, suggesting the complex surface of stone and tree bark, lichen, and moss. Bisson's paintings demonstrate a strong understanding of formal composition and reflect a sensibility honed from time she's spent immersed in the outdoors. Of note, Bisson is a two-time recipient of the Pollock-Krasner grant and was awarded a New York Foundation for the Arts fellowship in painting.
Samantha Keely Smith creates inspired and stirring abstract paintings in oil. The Brooklyn-based artist sees her paintings "as an expression of our internal turbulence. They reflect the overwhelming reality of being constantly aware of what is happening in the wider world – Change is the only constant." Smith's nebulous compositions are evocative of luminous cloudscapes and primordial oceans. Brilliant areas of stained pigment collide with waves of painterly brush strokes ultimately conjuring imagined environments with a timeless quality. "These paintings are about the essence of who we all are, as human beings… We all want love and connection." Smith's works give form to fluctuations between turbulence and calm present in everything from our emotions to the temporal world. Overall, Smith's focus is on the underlying psychological impact of the dawning awareness of our shifting reality.
An accomplished oil painter, Paul Sattler was the recipient of the John R. Solomon Guggenheim Foundation Fellowship. In 2004, he was selected to exhibit at the 179th Annual Invitational Exhibition of Contemporary Art at the National Academy of Design in New York, where he received the Wallace Truman Prize. Dramatic narratives unfold in his charged and enigmatic oil paintings which reference historic and literary sources. Sattler comments, "A diverse population of animals are enmeshed in my works' human-inhabited environments, theatrical locales, and domestic dramas."
Give Me Wood is an imaginative and evocative collection of contemporary painting and wood sculpture. Central to the identity and creation of all the extraordinary two- and three-dimensional works in the exhibition is the common material of wood. The participating artists defy logic, explore space (both real and imagined), carve, bend, turn, and otherwise construct some truly amazing and innovative work! Featuring Michael Alm, Garry Knox Bennett, Gil Bruvel, Christian Burchard, Tom Eckert, David Ellsworth, Ron Layport, Wendy Maruyama, and Sylvie Rosenthal.
The Blood Connection and Outback Steakhouse Join Forces to Save Lives BLOOD DRIVE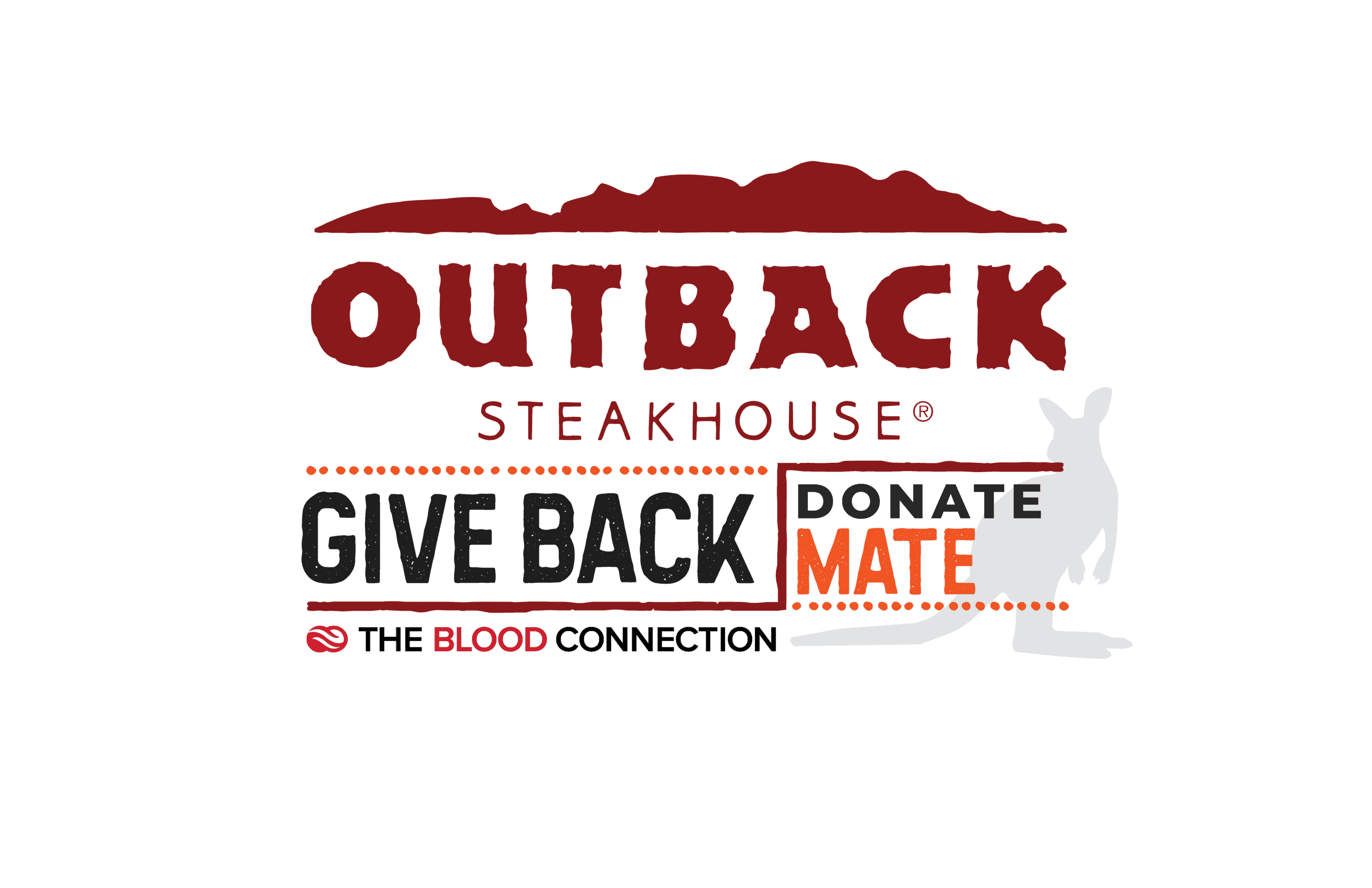 Outback Give Back – Donate, Mate!
There's never been a better time to stop by your local Outback Steakhouse! And The Blood Connection is giving you an easy way to eat for FREE.
For the entire month of August, TBC and Outback Steakhouse are working together to spread the word about blood donation. Partnerships like this are essential to the community's blood supply. Outback Steakhouse's enthusiasm to partner with TBC has helped the blood center reach new donors and save more lives!
The Outback Give Back Promotion runs August 1st – August 29th. Donors who give blood at any TBC center on any Thursday will receive a $20 Outback gift card and a free Bloomin' Onion ® coupon. To find a center near you, click here.
On August 29th, 18 Outback Steakhouse locations will host a blood mobile for a collective blood drive at the same time, 2-7 P.M. Blood donors will receive a $20 Outback gift card and a free Bloomin' Onion® coupon. After donating, they can walk right in and enjoy a free dinner at Outback, a thank you for saving lives!
Donors can visit any TBC center in the Upstate of South Carolina, and Raleigh and Asheville in North Carolina: 435 Woodruff Road, Greenville, SC; 341 Old Abbeville Highway, Greenwood, SC; 5116 Calhoun Memorial Hwy, Easley, SC; 1308 Sandifer Boulevard, Seneca, SC; 270 North Grove Medical Park Drive, Spartanburg, SC; 225 Airport Road, Arden, NC; 5925 Glenwood Avenue, Raleigh, NC. Centers are open Monday through Friday 7 a.m. to 7 p.m. and on the weekends 7 a.m. to 5 p.m.
Volunteers Needed! Time Travel Gala
We are looking for a team of volunteers to help with the Time Traveling Gala on September 28th.
Please note, we will not be using volunteer bartenders this year but will need lots of docents/general volunteers to help us keep the evening running smoothly.
Youth Art Competition Application Deadline October 1, 2019
Hot Works 4th Asheville Fine Art Show, October 26 & 27, 2019 takes place in Pack Square Park, downtown Asheville. This art show is juried by art professionals and brings artists to sell his/her art in all discipline including paintings, sculpture, clay, glass, fiber, jewelry, wood and more. All art is original and personally handmade by the artist who is present at the show. There is something for everyone, in all price ranges. You will see many artists at this show who do not attend other shows in North Carolina or South Carolina.
As part of our commitment to bring art education into the community, a Youth Art Competition for grades K-8 or ages 5-13 is integrated within a 10×20 space at the Asheville Fine Art Show. Sponsored by Institute for the Arts & Education, the associated 501c3 non-profit organization, all students in grades K-8 or ages 5-13 are encouraged to enter his/her original and personally handmade art that will be publicly displayed in the art show the entire weekend. On Sunday, October 27 at 3pm, there is $250 in youth art awards presented. Students are exposed to the rules and entrepreneurship opportunity of doing art shows for a living. The program brings families to the art show and exposes them to great art.
The registration packet for the 2019 Convention is now posted on the CIAssoc web site. All convention information is located under the MEMBERS tab, using the link Annual Convention.
https://www.facebook.com/events/1024751174386928/
WNC Farmer's Market
570 Brevard Road, in Asheville, North Carolina
8-6pm Daily
Summer is all about outdoor fun, spending quality time together as a family and taking in the wonderful sights of nature. Submit your photos of your family hiking, sunlight making its way through the trees or of the fantastic views that make Chimney Rock so special. We'll use the winning entries on our website and Facebook album, and you'll win some fun prizes. Photos must be taken within the Chimney Rock section of the Park.
Cost: No cost to enter contest.
https://www.facebook.com/events/2346811038665486/?event_time_id=2346811091998814
Kids Quiet Play Session Inside the Salt Cave
Spend some time with your family detoxing naturally in the Salt Cave. Adults $25, 4-12 years old $15, 3 and younger are free.
Uncommon Market at Asheville Outlets
On the hunt for the old, the bold, the creative and the unexpected? Asheville Outlets (ShopAshevilleOutlets.com) is pleased to host Uncommon Market, Sunday, August 25, 2019 from 9:00 a.m. to 4:00 p.m. Now in its 5th season, Uncommon Market Asheville is the city's largest destination bringing together quality antiques, vintage decor, art, jewelry, home furnishings and MORE! Food trucks and adult beverages will be available. Admission $2 per person; children and friendly dogs are free.
This event is hosted by Another Carolina Anarchist Bookfair 2019 please check out our full list of events here Another Carolina Anarchist Bookfair 2019
Presented by: CRASH
This workshop will look at digital security culture w/r/t different threat models: fascists, the state, big data, etc. Some parts will be interactive && participants will get more w/ space phone || computer but everyone should come.
https://www.facebook.com/events/361930301148065/
Asheville's Organicfest Celebration
MARK YOUR CALENDARS! #Asheville's 18th Organicfest celebration will be on Sunday, August 25, 2019 in Pack Square Park!!
https://www.facebook.com/events/871480736522637/
Come see us at the fair!
https://www.facebook.com/events/333017124045375/?event_time_id=333017127378708
Vance Elementary School and Ben & Jerry's Art Showcase
There's more than Chunky Monkey and New York Super Fudge Chunk in downtown Asheville's Ben & Jerry's this summer.
Art created by Vance Elementary School fifth grade students of art educator Robbie Lipe is now on display on the brick walls opposite the Ben & Jerry's ice cream. The exhibit depicts the students' interpretation of the artist Kehinde Wiley and the contemporary portraits he creates inspired by traditional Baroque paintings. It will be featured through the end of the summer.
"Ben & Jerry's is excited about showcasing art from the community inside our scoop shop," said general manager Chris Carter. "Making use of our walls to show what local artists are creating complements our social mission — to be actively involved in the places we live and do business. I hope this is the first of many art exhibits on our walls."
Carter gave all the credit for the exhibit to Ms. Lipe, who teaches kindergarten through 5th-grade students at Vance Elementary. She was named the North Carolina Arts Educators Association "Art Educator of the Year" in 2017-2018.
Ben & Jerry's is located at 19 Haywood Street. Current hours are Monday-Thursday 12 pm to 10 pm; Friday 12 pm – 11 pm; Saturday 11:30 am – 11 pm; Sunday 11:30 am – 10 pm.
For more information, call Carter at 310-601-6247.
Asheville Drag Brunch at The Grey Eagle
Asheville Drag Brunch at The Grey Eagle
Asheville Drag Brunch FUNdraiser for Beloved Asheville 501(c)3 – TWO SHOW TIMES!
Asheville Drag Brunch will host another fun show on Sunday, August 25th at 11:00 a.m. AND at 1:00 p.m. at The Grey Eagle in Asheville, NC. The $20 ticket includes a fabulous brunch and the hour-long drag show.
Tickets are on sale now at www.AshevilleDragBrunch.com. Profits from this show benefit BeLoved Asheville 501(c)3 as they help Asheville's over 550 homeless people year-round.
The family-friendly drag queen entertainment promises to be sing along top-notch fun with plenty of laughter and audience interaction. The show includes performances by professional queens including the Bearded Lady DIVINE, Cliche, Ginger Von Snap, and Katarina Eclipse.
"Drag is an essential pillar of the LGBTQIA community's history and culture," show performer DIVINE said. "This event is a fundraiser, yes, but its also an opportunity to showcase Asheville's incredible local performers, restaurants, and dedication to helping the community. Our brunches are held at different locations, showcase different drag queens, and the profits always benefit local charities so you should drag yourself to brunch every time!"
The $20 tickets are on sale now at www.AshevilleDragBrunch.com.
https://www.facebook.com/events/323391281882100/
Sunday Brunch Buffet at Roux
Take time from your busy life to care for yourself every Sunday at 11 am. Here is an opportunity to start your morning off the right way. A one hour session includes stretching, breathing, and the relaxation you need. A pint of beer will be waiting for you when you are done.
The only things you need area mat and yourself!
https://www.facebook.com/events/711687645894536/?event_time_id=712323965830904
Need something exciting to start your morning off right! Yoga! Yoga is now the fourth Sunday of the month, starting at 11 am. The session is $10 which includes a pint. Please bring a yoga mat.
https://www.facebook.com/events/2121162047948220/?event_time_id=2166872393377185
ACAB: The Radical Potential of Kitchen Medicine
This event is hosted by Another Carolina Anarchist Bookfair 2019 please check out our full list of events here Another Carolina Anarchist Bookfair 2019
Presented by: Jen S
In this class we will discuss ways that we can harness the accessibility and affordability of kitchen medicine to keep ourselves and our communities healthy. Herbalism should be available on a food stamp budget rather than marketed as a luxury item only available to those who can afford it.
https://www.facebook.com/events/2360107650738107/
Burntyard Vineyards Wine Tastings
Burntyard Vineyards Wine Tastings
Wine Tastings Sunday – Thursday 12-6pm
Winery Tours 2 pm Daily
2695 Sugarloaf Rd. Hendersonville, NC 28792
LET'S BUILD THIS COMMUNITY!
Please join us every last Sunday of the month for our Local BARK Market, hosted by our friends at pleb Urban Winery. We will be featuring an array of locally made goods, rotating food trucks, delicious wine, donation based training booth, and of course some adoptable PUPS! A percentage of the proceeds will go directly towards helping the animals in our care.
We are still accepting new Vendors, so if you are interested in posting up, spending the day with like minded community, and are hoping to support our Woof Meow Rescue mission please reach out to [email protected] More details on participating vendors coming soon.
We are looking forward to spending the day with you!
https://www.facebook.com/events/385303688727104/?event_time_id=385303702060436
Celebrate all things local with us every Sunday in the Meadow at our Local Sunday extravaganza. We'll have local craft vendors and farmers setting up shop for your perusal while Chalwa (2-5pm) lays down the soundtrack for the day.
Plus, there will be yard games and ice cream for the youngin's and plenty of craft beer for those that are a bit older.
Please keep in mind that the vendors and bounce house are weather-dependent, so fingers crossed for nice weather!!!
Bounce Houses Will Be Onsite:
August 11th
August 25th
Sep.8th
September 22nd
https://www.facebook.com/events/1186018254926618/?event_time_id=1186018301593280
Rocky Cove Railroad Exhibit
On exhibit Saturdays and Sundays from 12 – 4 p.m., Rocky Cove Railroad is a G-Scale (garden scale) model train that demonstrates the coming of trains to western North Carolina at the turn of the 20th century. The exhibit is located below the Grand Promenade. Please note, Rocky Cove Railroad will not operate in rainy or wet conditions.
Sanctuary Brewing Co. Presents: Small Batch Sunday
Join us for some very special craft beer. Every Sunday we will release a flavor infused version of our standard beers. Think Carolina Panther Chocolate Porter infused with cherries, Our Winterfell IPA infused with Jabanero, and on and on!
147 First Ave East
Hendersonville, NC 28792
828 595 9956