Calendar of Events
Upcoming events and things to do in Asheville, NC. Below is a list of events for festivals, concerts, art exhibitions, group meetups and more.
Sunday, October 20, 2019
'Mountain Top Polka Band' Oktoberfest Tour Dates
August 23, Appalachian Ridge Hard Cidery in Hendersonville
August 24, HiWire Brewing Company at the Big Top
Sept. 22, UpCountry Brewing on Haywood Road
Sept. 28, Southern Appalachian Brewery in Hendersonville
Oct. 4, Garden Deli in Burnsville
Oct. 6, Emmanuel Lutheran Church and School in West Asheville
Oct. 10, Highland Brewing Company and
Oct. 20, Saint Paul Mountain Vineyard in Hendersonville
49th Annual LEAF Festival
LEAF Festival sits below Mt. Mitchell with mountain lakes and rolling hills with 600 stunning acres featuring rustic cabins, large camping fields with mountain views, hiking trails,  barns, streams, and lakes for canoeing, swimming, and the zooming zipline. This enchanting land offers lots of outdoors adventures for the whole family!
The 1st LEAF Festival premiered Fall 1996, and has become a tradition twice a year, May and October. The name Lake Eden Arts Festival (LEAF) was chosen to honor the lake and the former Lake Eden Inn & Resort. "Arts" embraces a broad creative palate and of course it was to be a "festival". In envisioning LEAF, we sought to embrace world cultures, reflect the creativity of the Asheville area, and to complement the stunning landscape. The location and size, attendance is limited to 6,000  people on site per day, makes LEAF Festival one of the best small festivals in the world. The right place, the right size.
Asheville Pizza & Brewing Company's 2nd Annual Video Contest
Asheville Pizza & Brewing Company's 2nd Annual Video Contest where we create a contest for local filmmakers with three Jury Award cash prizes is now open to submissions.
The 2019 contest is to create a fake movie trailer that is between 30-60 seconds in length.
Also, just like our 2018 contest we are giving all qualifying entries a $25 Asheville Brewing Co. gift card that is good to use at any of our three locations.  No other contest actually pays filmmakers to enter.
After 20+ years of giving WNC great pizza, beer and movies we are thrilled to provide this annual contest supporting the filmmakers of the future.
Here are some bullet points of the contest details:
Length of the fake movie trailers must be between 30-60 seconds.
The fake movie trailers can be any of any genre, but must follow the rules and content guidelines to qualify (link below). Please stress this.
It is open to all ages, and any resident of Western North Carolina.
Submissions are now open and the deadline to submit a video is Sunday, November 10th at 11:59pm.
Qualifying entries will be shared on our Facebook/Instagram pages and also will play in our pre-show entertainment before movies at our Merrimon movie theater.
JURY AWARDS = $300 for 1st Place / $150 for 2nd Place / $100 for 3rd Place
PEOPLE'S CHOICE AWARDS = We'll post all of the qualifying videos to both our Facebook and Instagram pages, and let the public vote on their favorites. The winners receive Asheville Brewing Co. gift cards.
Please direct people to the video contest web page below on our website for all the rules and guidelines:
All questions can be emailed to:
DIYSigns Free Tool Designed to Help Educate about What's Recyclable
The Recycling Partnership announced the public beta launch of DIYSigns, the debut of a free online resource that anyone can use to help people know what to throw into the recycling. Whether at home, at the office, at school, at a sports stadium, or anywhere, education is needed to show what is recyclable and where.
"We know that consumer confusion is one of the top reasons why trash still ends up in recycling bins and carts. Our community partners have asked for our help in creating free and customizable posters, labels and signs and we were happy to deliver. Anything we can do to help public and private sector recycling succeed is a boost for the industry," said Keefe Harrison, CEO of The Recycling Partnership.
DIYSigns is an online tool with editable templates available in a variety of sizes from a bumper sticker to a poster – to fit just right wherever it's needed. 
Check out DIYSigns
!
Drink Coffee, Support Special Olympics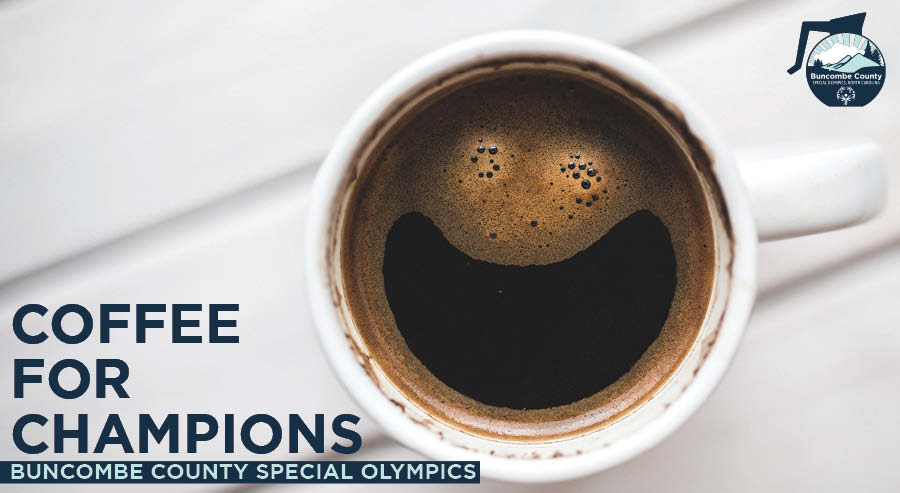 Buncombe County Special Olympics' annual Coffee for Champions fundraiser returns for a third year on October 1. During the month of October, local coffee shops donate up to five cents for each cup of coffee purchased at their establishments to support Special Olympics training and competitions for area youth and adults.
"We are a completely volunteer-driven, donation-funded program focused on inclusionary sporting opportunities for individuals with intellectual and physical disabilities," said Karla Furnari of Buncombe County Recreation Services, who is also a Buncombe County Special Olympics coach and Local Coordinator. "Coffee for Champions helps build connections between our athletes and the community. It also allows us to move away from labor intensive fundraising campaigns that often pull volunteers from other critical program needs such as coaching and transporting athletes."
A map on the organization's website lists participating coffee shops:
Donating Five Cents Per Cup

Ivory Road Café & Kitchen (1854 Brevard Road in Arden)
Mosaic Café & Coffee House (1 Town Square Boulevard in Biltmore Park)
Trout Lily Market (1297 Charlotte Highway in Fairview)

Donating One Cent Per Cup

Dynamite Roasting Company (3198 US Highway 70 in Black Mountain)
PennyCup Coffee Company West (362 Depot Street in Asheville's River Arts District)
PennyCup Coffee Company East (6 Beverly Road in Asheville's Haw Creek)
PennyCup Coffee Company North (857 Merrimon Avenue in North Asheville)
Round Earth Roasters (518 Hendersonville Road in Asheville)
Buncombe County Special Olympics is made possible through funding from donors and support from Buncombe County Government. To donate or volunteer, visit buncombecountyspecialolympics.org.
Special Olympics was founded by Eunice Kennedy in 1968 to celebrate changing attitudes about the talents of people with intellectual disabilities. Buncombe County Special Olympics provides year-round sports training and athletic competition for youth and adults. Sports include alpine skiing and snowboarding, aquatics, athletics, basketball, bocce, bowling, cheerleading, gymnastics, powerlifting, soccer, and tennis. The organization also offers the Adaptive Athlete Program in a partnership with South Slope CrossFit and Buncombe County Recreation Services.
Explore the History of the French Broad Riverfront in Asheville with RiverLink's Bus Tour
The RiverLink bus tour, offered through Leap Frog Tours, is an opportunity to learn the exciting history of the French Broad River and its important role in the development of Asheville. Participants will also learn about current improvements along the French Broad River and what is expected in the coming years to make the River and Watershed a better place to live, learn, work and play.
Tours run from 10 AM-1 PM on the first Thursday of the month from March-November. Tour groups meet at the parking lot of New Belgium Brewing in the River Arts District of Asheville. Cost is $45 with a portion of the proceeds donated to RiverLink to support their mission to promote the environmental and economic vitality of the French Broad River and its watershed.
For more information and to register visit: https://tinyurl.com/BookRiverLinkTourToday
Wands for Wildlife collection has begun!
October is here!! Wands are being accepted throughout the month. Please go to the website for the form to send in with them and more information. SHARE THIS FORWARD! 
www.wandsforwildlife.org
Since March of 2017 the
Wands for Wildlife
program has grown and spread all over the world! Engaging people of all ages and from all walks of life to take action, help the planet and save wild lives.
One Wander (wand donor) from Poland shared, "I am so happy that good people still exist in the world."
From a Preschool teacher in Illinois, "I was unsure if my preschoolers would understand conservation and pollution, but starting with taking care of animals was the perfect way to start the unit since it was a more concrete idea and something they had prior knowledge about."
Link to post that went up announcing the Appalachian Wildlife Refuge 'Wands for Wildlife' drive for October has begun….
WNC Farmer's Market
570 Brevard Road, in Asheville, North Carolina
8-6pm Daily
Fall Foliage Photography Contest
Capture photos of your friends and family members enjoying the vivid hues of fall and enter them into our photo contest. We'll use the winning entries on our website and Facebook album, and you'll win some fun prizes. Photos must be taken within the Chimney Rock section of the Park.
No additional costs to enter.
The first-place winner will receive an overnight getaway to Hickory Nut Gorge with a stay at the Historic 1927 Lake Lure Inn & Spa, two passes to the Park, brunch for two at the Historic 1927 Lake Lure Inn & Spa and two tickets for a tour with Lake Lure Boat Tours.
The contest's second-place winner will receive two passes to the Park, lunch for two at the Old Rock Cafe and two tickets for a tour with Lake Lure Boat Tours.
Chimney Rock's Facebook followers will select the People's Choice Award winner. Followers will have a week to like and share their favorite photo from an album of Winter Photo Contest entries posted on the Park's Facebook page at facebook.com/chimneyrockparknc. The People's Choice Award Winner will receive two passes to the Park, lunch for two at Old Rock Cafe and their photo will be featured on the Park's Facebook page.
Shutterbugs interested in capturing Mother Nature's wintry beauty can do so by entering Friday through Tuesday from 10 a.m. to 6 p.m. during the Park's winter hours.
All entries must be submitted to [email protected] or to the Parks' Facebook page through Facebook messenger.
https://www.facebook.com/events/453143675217439/?event_time_id=453143781884095
Kids Quiet Play Session Inside the Salt Cave
Spend some time with your family detoxing naturally in the Salt Cave. Adults $25, 4-12 years old $15, 3 and younger are free.
Craft Fair Of The Southern Highlands
Meet the artisans of the Southern Highlands exhibiting contemporary & traditional works of clay, wood, metal, glass, fiber, natural materials, paper, leather, mixed media, & jewelry.
Thursday – Saturday, 10 – 6pm
Sunday, 10 – 5pm
A Monster Maze and a Monstrously Good Time
 All money raised from the 6-week event benefits Eliada's vast continuum of care for children and youth 0-25 years old.
This year, Eliada will maintain some beloved attractions including the tractor ride, which now drives all the way around, and partially through, the Corn Maze, the jumping pillow, the corn kernel sand box, the spider web climber, the tube slides, and the corn cannons.
New This Year:
This year, Eliada's featuring fun monsters in the maze design. To accompany this theme, a new game has been added to the event. This monster mystery will take you through the maze, where you follow clues, and find monsters hidden throughout the cornfield. You can be a monster mystery detective!
Like last year, Eliada is pleased to announce that the corn planted in the field is Non-GMO, and that Eliada used all natural fertilizers to help the corn grow. Eliada is committed to sustaining our land and the health of our campus through sustainable farming methods. Since we made this shift in practice last year, our neighboring farmers have already let us know that their bee populations have returned. We are proud to be impacting the great community through our farming practices.
Beer and Cider:
This year, Eliada is pleased to offer beer and cider to guests during select weekend hours.
Friday: 5-8pm
Saturday: 11am-8pm
Sunday: 11am-6pm

Special Events: We offer field trip, birthday party, and corporate night experiences. Contact Chris Rainwater at

[email protected]

to schedule your event.

Volunteer:Volunteers may work 3 hours shifts at one of our many attractions. Volunteers receive 2 FREE tickets to the Corn Maze for every shift served. More information at

EliadaCornMaze.com

.
Burntyard Vineyards Wine Tastings
Burntyard Vineyards Wine Tastings
Wine Tastings Sunday – Thursday 12-6pm
Winery Tours 2 pm Daily
2695 Sugarloaf Rd. Hendersonville, NC 28792
PEANUTS™ The Great Pumpkin Patch Express Railroad Smokey Mountains
About This Trip
Guests will hear a narration of Schulz's "It's The Great Pumpkin, Charlie Brown" as the train travels to the Pumpkin Patch. Upon arrival, passengers will be greeted and have a photo opportunity with Charlie Brown, Lucy, and Snoopy. During your 1 hour and 30 minute layover, your activities to enjoy at The Great Pumpkin Patch will include:
campfire marshmallows
coloring station
temporary tattoos
trick or treating
bouncy house (weather permitting)
wagon rides
And kids, don't forget to wear your Halloween costumes! There will be plenty of PEANUTS™ merchandise at the GSMR Gift Store and Train Museum! Each child will also select their own pumpkin from The Great Pumpkin Patch to take home.
Rocky Cove Railroad Exhibit
On exhibit Saturdays and Sundays from 12 – 4 p.m., Rocky Cove Railroad is a G-Scale (garden scale) model train that demonstrates the coming of trains to western North Carolina at the turn of the 20th century. The exhibit is located below the Grand Promenade. Please note, Rocky Cove Railroad will not operate in rainy or wet conditions.
Sanctuary Brewing Co. Presents: Small Batch Sunday
Join us for some very special craft beer. Every Sunday we will release a flavor infused version of our standard beers. Think Carolina Panther Chocolate Porter infused with cherries, Our Winterfell IPA infused with Jabanero, and on and on!
147 First Ave East
Hendersonville, NC 28792
828 595 9956
Every Sunday we offer a free meal to anyone and everyone. Tips are welcome from those who can give a little something!
Please call for times: 828 595 9956
Vintner's Table Food Truck at Burntshirt Vineyards!
Our Vintner's Table Food Truck is here for the season! Buy salads, cheese boards, BRAND NEW lobster rolls and more to enjoy with Burntshirt Vineyards wine!
Saturday Hours: 12pm to 6pm
Sunday Hours: 12pm to 5pm
https://www.facebook.com/events/430291697703807/?event_time_id=430291761037134
Are you looking for an excuse to knit or crochet for a good cause? Help make baby hats and blankets and adult hats, scarves, and slippers to support at-risk newborns and homeless adults.  Your handmade knitwear will keep our neighbors warm.  Volunteers with basic skills in knitting or crocheting are welcome. Please bring your own needles or crochet hooks and a pattern.
Check out Knit-n-Give on WLOS: http://wlos.com/news/only-on-wloscom/close-knit-group-of-women-use-their-talents-to-help-asheville-charities
Arrowhead Artists and Artisan League

Arrowhead Artists and Artisan League

For those interested in painting, drawing, pastels, or other media. Materials provided free of charge for the first two sessions. To continue, join the league for $25 per year. 2-4 p.m. at the Arrowhead Gallery & Studios, 78 Catawba Ave, in Old Fort. For the full schedule please contact Helen Sullivan at [email protected]
Asheville Outlets Presents Monthly Cruise 'In Car Show
Do you love cars? If so, then join us at Asheville Outlets (ShopAshevilleOutlets.com) for Cruise 'In, a monthly car show featuring an exciting display of cars, trucks, motorcycles and special interest vehicles behind the Food Court on Sundays, May 19, June 16, July 21, August 18, September 15, October 20 and November 17, 2019 from 2:00 p.m. to 5:00 p.m. Cruise 'In is free to car owners and spectators.
The Addams Family A New Musical on HCT Main Stage
The Addams Family A New Musical
Book by Marshall Brickman and Rick Elice
Music and Lyrics by Andrew Lippa
Based on Characters Created by Charles Addams
Main Stage
Oct. 18-Nov 3
Welcome to kooky, upside-down world of the Addams Family, a family dealing with the same challenges faced by any other family: the Addams kids are growing up. Wednesday Addams, the ultimate princess of darkness, has fallen in love with a sweet, smart young man from a respectable family – a man her parents have never met. And if that weren't upsetting enough, Wednesday confides in her father and begs him not to tell her mother. Now, Gomez Addams must do something he's never done before – keep a secret from his beloved wife, Morticia. Everything will change for the whole family on the fateful night they host a dinner for Wednesday's 'normal' boyfriend and his parents. In one fateful, hilarious night, secrets are disclosed, relationships are tested, and the Addams family must face up to the one horrible thing they've managed to avoid for generations: change.
https://www.facebook.com/events/1308050819334851/?event_time_id=1308050829334850
Hendersonville Oktoberfest
A great afternoon at the vineyards with a German twist! Bring your Lederhosen and Polka shoes. We'll have the wine and German party atmosphere ready.
Hendersonville Oktoberfest at Saint Paul Mountain Vineyards
A great afternoon at the vineyards with a German twist! Bring your Lederhosen and Polka shoes. We'll have the wine and German party atmosphere ready.
https://www.facebook.com/events/326342334669337/
It's not too early to make your plans to travel down the yellow brick road to the merry old land of Oz! We're deep into the rehearsal process, are building the sets and the costumes, and are hearing LOTS of super cool ideas from the artistic team!
Opening Weekend and Thursday night tickets are cheaper than other performances ($26 for adults vs $30)
Tickets for children 17 and under are $15 for any Wizard of Oz performance!
Keep up with what's happening in rehearsals with the "We're Off to See the Wizard" blog series written by our Cowardly Lion, John O'Neil!
Have you always wanted to learn how to make your own apple cider? Join Noble Cider Co-Founder and Lead Cider-Maker Lief Stevens for an introductory class in hard cider making.  Participants will receive all the necessary tools for making one gallon of hard cider.
3:00 PM – 5:00 PM at our Cidery here in Asheville, N.C. Tickets are $30.00 per person
Max of 20 participants. Must be 21+ to attend.
Jack of the Wood : Sunday-Irish Session
Jack of the Wood : Sunday-Irish Session 
Sundays
1 till who knows when?
Traditional Irish music is kept alive at Jack of the Wood with our unplugged Sunday session.
Jack of the Wood
95 Patton ave
Asheville, NC 28801
(828) 252.5445
St. John Church and Cemetery Tour The Episcopal Church of St. John in the Wilderness Flat Rock
The cemetery is of historic significance, with graves of men and women whose names are
written in the history books of South Carolina and the United States. First Families of the early
years of our country, descendants of signers of the Declaration of Independence, influential
politicians of the 19th century, military leaders and others of note are buried in the churchyard.
The tour will last about an hour, Please wear comfortable shoes.