Calendar of Events
Upcoming events and things to do in Asheville, NC. Below is a list of events for festivals, concerts, art exhibitions, group meetups and more.
Thursday, May 26, 2022
2022 RiverLink Annual Fund
What makes a place idyllic?
Start with an emerald river that flows from ancient mountains. Add an abundance of living creatures that co-evolved over millennia. Bring in humans who honor their place in the interconnected web. And rebuild a vital stream that supports us all.
Your support and engagement helps ensure the health of this watershed for the ages! We can't do it without you.
Buncombe County Organizations: Apply For Free Hotspots and Service
Buncombe County Organizations Can Apply For Free Hotspots and Service As Part of $13 Million Dollar Pledge From UScellular
Access to reliable internet connectivity causes a divide between Asheville area youth who have access and those who do not. Millions of children nationwide and many right here in our area rely on public Wi-Fi to study when away from school. We are thrilled to announce that UScellular is providing $13 million dollars in free mobile hotspots and service to bridge this issue knows as the "homework gap".
We encourage nonprofits working with youth in afterschool programs to apply and use this resource to enhance the important work they are already doing. Nonprofit organizations that meet the following criteria are encouraged to apply:
– Certified 501c3 nonprofit organizations
– Operate within UScellular's service area
– Focused on kindergarten through 12th grade
– Not a school or government entity
To apply, click here.
If you're not currently set up as an applicant on Grants Connect, you will need to set up an applicant profile first. Once you've set up your profile, click the above link or refresh your page to be taken to the After School Access Project landing page. If you have any questions, please email [email protected].
Students across Western North Carolina deserve the tools and resources they need to succeed. Hotspots are stand-alone Wi-Fi networks that can connect several devices at once wirelessly and have proven to be a vital tool for youth to access the internet, study and complete homework. In 2021, UScellular donated 2,800 hotspots and service to 33 Boys & Girls Clubs across the country, a $2.6 million investment. Clubs have used them to boost their connectivity on site and loaned the devices out to youth and their families to support reliable access at home. Now more organizations have the opportunity to apply.
History @ Home – Virtual Exhibits w/ The Western North Carolina Historical Association (WNCHA)
Stories from the House is a virtual tour of our 1840s-era brick mansion as seen through the eyes of many of the people who walked these same hallways over a century ago and whose stories represent a microcosm of the history of western North Carolina.

In 1918 vs. 2020, we took an in-depth look at the 1918 influenza epidemic in Western North Carolina through newspaper clippings, advertisements, ephemera, photographs, and oral history and place the events of 1918 into context with our present-day response to the coronavirus pandemic.

Old Shiloh was one of Asheville's first communities established by emancipated people. The community moved to its present-day location – New Shiloh – after George Vanderbilt, in an effort to expand his land holdings as he planned to build his Biltmore Estate, purchased the land and buildings and agreed to relocate the Shiloh church and cemetery.
Home Green Home Silent Auction w/ GreenWorks
Bid on a Greener Future
Our Silent Auction Features Only-in-Asheville Treats & Unique Experiences to Fund Asheville's Climate Resilience
May 13-29
Bidding Ends May 29 at 8pm
You live in a beautiful, healthy place, and you want to keep it that way.
Us too.
So we put together a fun way to help protect our home — now and for the future.
We've reached out to our community, and collected items from some of the most fun, most delicious, and most unique Asheville businesses. The auction goes live May 13.
Local Air Quality Agency Accepting Nominations for Clean Air Excellence Awards
The Asheville-Buncombe Air Quality Agency (AB Air Quality) is now accepting nominations for our eighteenth annual air quality awards program. The goal of the Clean Air Excellence Awards is to recognize businesses and organizations that have truly gone above and beyond regulatory requirements to improve air quality for the citizens of our area. Past years' award recipients have included Biltmore, Eaton Corporation, and Asheville Housing Authority; each initiated voluntary efforts that improved air quality in the Asheville-Buncombe County Area.
Award guidelines explain the criteria for the awards and different categories of awards apply to different types of permitted facilities, organizations, and individuals that would like to nominate themselves or another entity for consideration.
To submit a nomination for a Clean Air Excellence Award, please download the application form online and include a brief summary describing what was done to improve air quality for Buncombe County.  Examples of voluntary pollution prevention measures include:  significant energy efficiency upgrades, switching to more environmentally friendly and lower emitting solvents and cleaners, installing renewable energy systems, and upgrading fleet vehicles to more fuel efficient or lower emitting models. We ask that nominations be submitted to our Agency by June 7, 2022. We encourage you to submit any and all efforts your company (or another company) has undertaken to reduce emissions.  Agency staff is available to assist with emissions-related questions.
Award guidelines and applications can be found below as PDFs. Please contact Ashley Featherstone at (828) 250-6777 or [email protected] with questions.
Need Help With Water Bills? New Water Assistance Program Could Offer Help.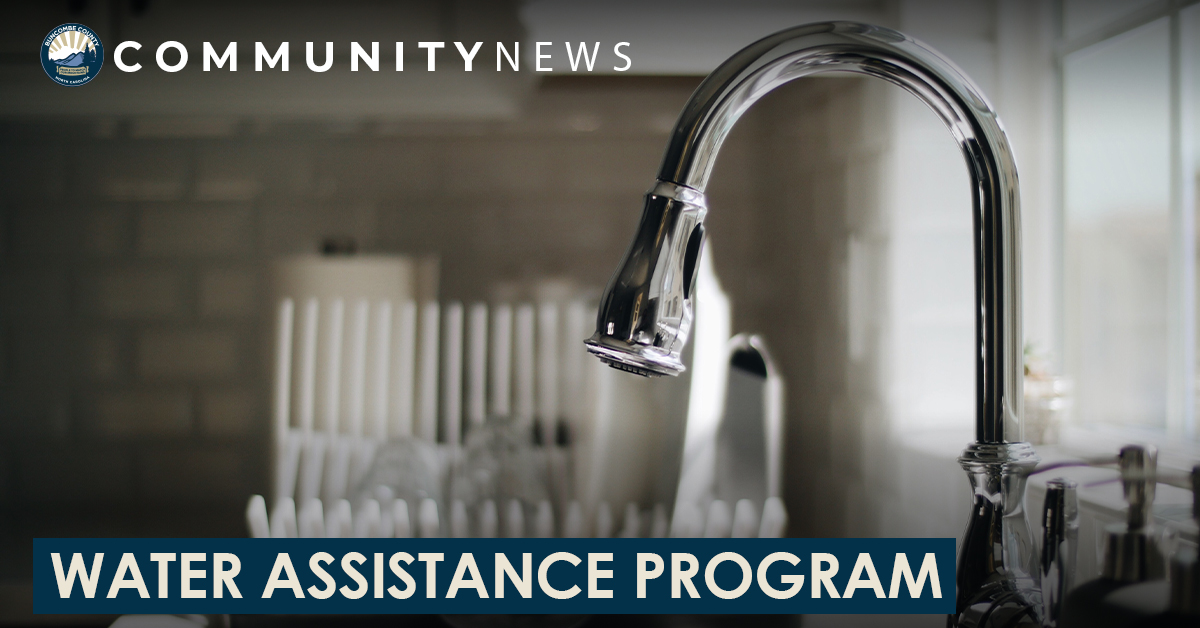 If you're behind on your water bill or afraid your water might get cut off, a new resource might be able to help you. On Jan. 4, the Buncombe County Board of Commissioners approved more than $450,000 in federal funding for the Low-Income Household Water Assistance Program (LIHWAP). The initiative is aimed at preventing water disconnections and helping reconnect drinking and wastewater services.
The LIHWAP will be administered by Buncombe County-based Eblen Charities. The nonprofit will make payments directly to utilities on behalf of qualifying households. The program is slated to run through Sept. 30, 2023 or until funds are exhausted.
Eligibility requirements
Households that currently receive Food and Nutrition Services (FNS), Temporary Assistance for Needy Families (TANF) or Work First services, or those that received Low-Income Energy Assistance Program (LIEAP) services from Oct. 1, 2020-Sept. 30, 2021, are automatically eligible to receive this benefit if their water services have been cut off or are in danger of being cut off.
For additional eligibility information or to apply, please contact Eblen Charities at (828) 255-3066.
Nominations accepted for the Blue Ridge Business Growth + Rising Star Awards
The Blue Ridge Business Growth Awards (companies in business over 3 years) and Rising Star Awards (companies in business less than 3 years) will be presented to Chamber member businesses that experienced growth in 2020 through quality management, inventiveness, old fashioned hard work and courage. Companies can be recognized for employment growth, revenue growth, or a combination.
Outpace Hunger Feed People and Your Passion
OUTPACE HUNGER
FEED PEOPLE AND YOUR PASSION!
What Is Outpace Hunger?
Looking for a way to make a real impact this spring and summer? Feed people while pursuing your passion through Outpace Hunger, an action-based fundraising campaign that turns a favorite activity into meals!
For decades, MANNA FoodBank has been working to outpace hunger and food insecurity all across 16 counties of Western North Carolina, including the Qualla Boundary. The 2022 campaign runs May 1 through September 30, and we invite you join the growing community of folks who are Outpacing Hunger alongside of us!
How It Works
Participating in Outpace Hunger is easy!
You decide your level of commitment, so every participant can create their own path to helping provide food to our community. Participants also decide how, when, and where they complete their goal, any time now through the campaign end on September 30.
Outpace Hunger participants:
(1) Register to be a part of MANNA's Outpace Hunger community. The $20 registration fee includes a t-shirt for you and provides 80 MEALS for neighbors facing food insecurity in WNC.
(2) Choose a favorite activity (run, walk, roll, stroll, hike, bike, paddle, climb, float, skate, golf, and everything in between!) to complete individually, or as a family/group/team.
(3) Set a goal to reach. This can be an activity-related goal, a fundraising goal, or both.
(4) Invite friends and family to support your fundraising efforts through your own, personalized Outpace Hunger webpage.
Whether running a 5K, walking your neighborhood, hiking the Mountains to Sea trail, or paddling the French Broad River, Outpace Hunger participants play a vital part in ensuring our WNC neighbors have access to healthy food. 
READY TO OUTPACE HUNGER WITH US?
ALREADY AN OUTPACE HUNGER PARTICIPANT?
 NEED MORE INFORMATION?