Details
2022-05-30T11:00:00-04:00
2022-05-30T15:00:00-04:00
Contact
Carl Sandburg Home National Historic Site
18286934178
Information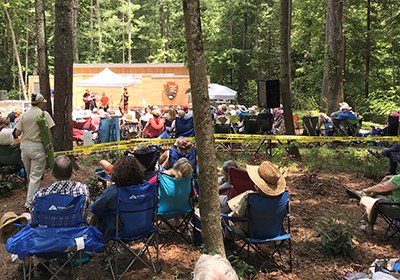 The music festival began in 1987, to honor Carl Sandburg's efforts to document the history of American music in his American Songbag. Carl Sandburg published the American Songbag in 1927 after spending years documenting and researching early American songs. As Sandburg said, "The American Songbag is a ragbag of strips, stripes, and streaks of color from nearly all ends of the earth. The melodies and verses presented here are from diverse regions, from varied human characters and communities, and each is sung differently in different places." His publication does not focus on one genre of music, but rather on the human experience. "It is an All-American affair, marshalling the genius of thousands of original singing Americans."
Sandburg enjoyed all American musical genres. He spent years interviewing musicians and singers, documenting their songs, including folk, gospel, jazz and blues. Carl Sandburg said, "the American Songbag comes from the hearts and voices of thousands of men and women."
Compiling and publishing the American Songbag was one of the most difficult writing projects Sandburg took on during his life. Today, the Carl Sandburg Music Festival celebrates his work and the work of modern singers and songwriters to share diverse and original American music.
Music Festival is supported by:
Friends of Carl Sandburg at Connemara, Inc.
America's National Parks, the non-profit partner that operates the park store
A grant from the North Carolina Arts Council; administered by the Arts Council of Henderson County.