Calendar of Events
Event Cancellations Due to Coronavirus
Several upcoming events have been canceled or postponed due to concerns about the new coronavirus (COVID-19). Events listed on this page may be outdated, so please visit the event website or contact the event organizer for the latest information.
Event organizers can contact us to update their event's information.
Upcoming events and things to do in Asheville, NC. Below is a list of events for festivals, concerts, art exhibitions, group meetups and more.
Friday, December 4, 2020
Beginner Sculpture: Personifying Clay Creations with Instructor Mike Zukoski
Wednesdays, 10am – 12:30pm
October 14th – December 9th
No Class November 25th
This class will cover the basics of ceramic sculpture. We will use introductory hand-building techniques and sculpt using solid forms, coil, and slab methods. Each student will be encouraged to bring their own ideas and we will work to bring them to life in 3D. Everyone is welcome—from complete beginners to advanced potters who are interested in learning new techniques and methods.
Levels: All Levels
Tuition: $310 +$55 Lab Fee
Beginner Wheel: Clay All Day! with Instructor Lauren Breitling
Sundays, 10am – 12:30pm
October 18th – December 13th
No Class November 29th
Want to learn how to throw on the potter's wheel? No experience? No problem! In this class, students will learn the foundations of wheel throwing. Starting with the basics and building upon them, students will gain the necessary skills to create mugs, bowls, vases, and more! There will be plenty of instruction as well as independent time to explore the mud and the studio. Join Lauren this fall for a playful and clay-full journey!
Level: All Levels
Tuition: Tuition: $310 + $55 Lab Fee
Beginner Wheel: You Can Handle It! with Instructor Shinara Taylor
Saturdays, 10am – 12:30pm
October 17th – December 12th
No Class November 28th
Have you dreamt of making a personalized mug or bowl but feel boggled by the process? Don't be nervous, every proficient potter was a beginner once—just like you. This class will boost your clay confidence with inspiring demonstrations, one-on-one instruction, and plenty of practice. Through exploration of tools and foundational techniques you'll be able to create distinct and useful pots. Each student with be encouraged to establish a strong skill base while also pursuing their individual interests and goals. Get ready to use your hands and make something you're proud of!
Level: All Levels
Tuition: $310 + $55 Lab Fee
Bigger Pots Made Easy with Instructors Gabriel Kline and Anja Bartels
Mondays, 10am – 12:30pm
October 12th – December 7th
No Class October 19th
Do you want to increase the scale of your work, but feel intimidated by large pieces of clay? The truth is, you don't have to be a big, strong person to make big, strong pots! Join Anja and Gabriel as they demystify the techniques used to produce large scale pottery. Demos will include throwing wide diameter bowls, section building skyscraper pots, centering 50-100 lbs. of clay, and creative ways to make voluminous storage jars. These techniques are simple, fun, and easy to learn. You'll be amazed at the pieces you create! The class will include plenty of studio and one-on-one time with the instructors.
Level: Intermediate and Advanced
Tuition: $310 + $75 Lab Fee*
*Includes 50lbs of clay and firing of large work
Charting New Waters with Instructor Anja Bartels
Tuesdays, 10am – 12:30pm
October 13th – December 8th
No Class November 3rd
Are you curious about expressing yourself through pottery but don't know where to start? Let Anja take you on a surface design journey in this 8-week hands-on course. We will take a close look at forms and shapes that give us the best canvases to decorate before we dive deep into storytelling through illustrative Sgraffito and Mishima, adding texture with slip to create phantasmagorical creatures, and using lusters and decals to make your creations shine.
Level: Seasoned Beginner, Intermediate and Advanced
Tuition: $310 + $55 Lab Fee
Kid's Class: Earth Day Everyday with Instructor: Paige Janeri
Ages 8-12
Thursdays, 4 – 6pm
October 29th – December 10th
No Class November 26th
The process of making with clay is fun, creative, and expressive, especially with its tactile properties and many uses. This six-week class will add originality and innovation to your child's day. Using beautiful brown clay, we will start with the basics and then build on our knowledge by combining hand-building, wheel throwing, and team projects. The activities in this class are designed to let the students work at their own pace and get as detailed as they desire. We'll learn about the personality of clay, make friends, collaborate on ideas, and create what makes us happy, while honoring the earth we all share.
Tuition: $235
$25 discount for siblings enrolled in the same class. Discount code "claycamp25"
From Line to Form with Instructor Allison Cochran
Wednesdays, 6:30 – 9pm
October 14th – December 9th
No Class November 25th
Join Allie for an exploration of design methods that can enhance your creative process. In this class we will use drawing as a means for pattern making, translating lines and shapes into 3-d ceramic forms. Drawing shapes provides a quick way to explore new ideas. Students will apply these methods to make sets, coils, slabs, tiles, or working reductively with clay.
Levels: All Levels
Tuition: $310 + $55 Lab Fee
Let's Get Salty!with Instructor Gillan Doty
Tuesdays, 6:30 – 9pm
October 13th – December 8th
No Class November 3rd
Get ready to fire your pottery in our newly built Salt and Soda Kiln! This class will focus on making pots for everyday use to fill your cabinets, dish rack, and dinner table. Hone your skills and artistic pursuits by learning to make more complex cups, plates, bowls, and pitchers. You'll be astounded by the dynamic surfaces you can achieve by using a variety of slips and Cone 10 glazes. Students will participate in the unforgettable experience of firing our Salt and Soda kiln.
Level: Intermediate
Tuition: $310 plus $55 Lab Fee
Saturday, December 5, 2020
Asheville Art Museum Calling Families for Survey
Calling all families! If you visit the Museum with children and/or participate in the Museum's family programs (or plan to in the future), we want to hear from you. As we continue with virtual and small-group, in-person family programs, we need your feedback to create a model that will work for you this winter and spring. We're giving away a FREE guest pass to one of the first 50 people to fill out the survey.
Bucket List: Guide to Art Institutions in WNC
Bucket List: Guide to Art Institutions in WNC

Western North Carolina is known as the artist's enclave of the Southeast—but where should we layfolk go to enjoy the fruits of these labors? 

Here's our guide

 to enjoying art—painted, sculpted, sketched, and otherwise crafted—across the region.
Call to Artists South Slope Art Project
Tribute Companies is requesting Artist Qualifications for a permanent art mural(s) for their mixed-use development, The Ironwood, located on Asheland/Coxe Avenue in Downtown Asheville.
This artwork should do the following:
●  Create excitement and interest for the area.
●  Honor the diversity of Asheville's Southside community.
●  Celebrate the vital role of African American history and culture in Asheville.
●  Connect visually to the site through interpretation of historical and cultural aspects​.
●  Be durable, low maintenance, and appropriate to the location. Integral to creating this artwork(s), is the artists' willingness to learn about the community and have a dialogue with interested community members to help inspire and guide content creation. A range of materials/applications will be considered, including painted murals and digitally printed murals. If digital, the work must be vector based, printable, and scalable to the site specifications.
Matching Donations Challenge Asheville Art Museum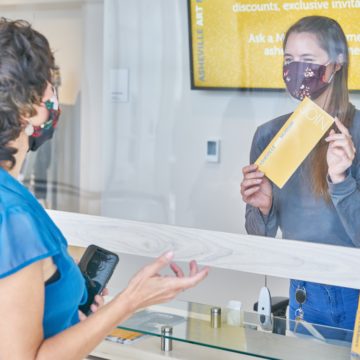 The Museum was closed for nearly six full months as a result of the COVID-19 pandemic, causing severe losses in revenue. Though we are now open, uncertainty still looms, and it will take a dedicated effort to recover to a position of strength and stability. Thanks to a generous grant from a longtime foundation supporter, the Museum has established the Asheville Art Museum COVID-19 Relief Fund and matching challenge to encourage additional operational support during this difficult year. We invite you to participate in the challenge and help secure the Museum's future as we work to serve our community through engagement with the arts.
Through December 31, 2020, all Annual Fund donations and upgraded memberships will be matched dollar-for-dollar up to $75,000. Give any amount to the Annual Fund, and boost your impact at this critical time with the one-to-one match. You may also join the Masterpiece Society or renew at another upgraded membership level. Any gift in addition to your current renewal will be matched by this fund and will count toward your membership
Show and Tell Holiday Pop Up Shop
WELCOME TO OUR ONLINE POP UP SHOP
Things are looking a little different this winter holiday season. Show & Tell has gone virtual, bringing the holiday pop up shop you know and love Home For the Holidays!
∙∙∙
Although we are going to miss decking the halls, we are so excited to reach a wider audience with our online presence and are thrilled to showcase the best in handmade, vintage, fair trade, and packaged bites from Asheville, NC and beyond.
South Arts Southern Prize + State Fellowships
Apply by Jan. 11 | Visual artists, applications are now open for the 2021 Southern Prize & State Fellowships. $80,000 in cash awards and residencies at The Hambidge Center for Creative Arts & Sciences will be awarded to celebrate the highest quality artistic work being created in the South.
Southern Equality Studios Artists Grant LGBTQ + BIPOC
The Southern Equality Studios special grant round is dedicated to resourcing and celebrating LGBTQ artists and creatives across the LGBTQ South who are BIPOC (Black, Indigenous, or people of color). Grants of up to $500 will support BIPOC LGBTQ Southern artists working on a wide range of creative projects.
These new grant rounds are part of CSE's Southern Equality Fund, which has been making grassroots grants across the LGBTQ South since 2015. Since its inception, the Southern Equality Fund has prioritized supporting work led by BIPOC, transgender, and rural organizers.
Have you seen an inspiring BIPOC LGBTQ artists in your community, or are you a creative who could use grant support? If so, we want to hear from you!
We are specifically seeking nominations for artists or creatives efforts who are:
Based in the South.
Black, Indigenous, or people of color (BIPOC).
LGBTQ people.
Funds can be used to support a wide range of artistic endeavors.
Nominees are eligible to receive this grant even if they have received a previous Southern Equality Fund grant; however, priority will be given to nominees who have not yet received a grant.
Anyone is welcome and encouraged to nominate an artist for a grant and artists may also nominate themselves.
There are no grant reports, budgets or supplemental materials required in this process. However, if selected, applicants will have to fill out and return a W9 form to receive their funding.
Visit the Ode to Buskers + Asheville Music Sculpture
Kimpton Hotel Arras and local artists today unveiled, "Ode to Buskers & Asheville Music," a locally created, life-size stainless steel sculpture located outdoors on the corner of Lexington and Patton at Kimpton Hotel Arras. Inspired by the city's vibrant street musicians and their lively drum circles, artists Chukk Bruursema and Ash Knight sought to bring the unique rhythms of Asheville to life through this striking, collaborative piece, which was commissioned by the hotel.
"Asheville Music," the large steel djembe drum sculpted by Chukk Bruursema, has West African roots, where the djembe is traditionally played as part of an ensemble, invoking feelings of community and togetherness. Adorning the drum is "Asheville Music," Ash Knight's five musical buskers depicted playing the spoons, the string washtub, jug, washboard, and the fiddle, with a dog observing from the ground below.
"We are pleased to officially introduce the "Ode to Buskers & Asheville Music" sculpture, a defining art piece that truly represents the spirit of our city, to the Asheville community," said Kimpton Hotel Arras General Manager David McCartney. "This piece is an exciting addition to the hotel and expands our local artwork program, which works to highlight and supporting the work of local artists and purveyors."
Following the unveiling, tours of the additional local artwork displayed throughout the hotel were offered with the artists in attendance to speak to their pieces, including John Wayne Jackson and Peter Roux. Kimpton Hotel Arras commissioned more than a dozen pieces of local artwork curated by local art consultant Liz Barr of Art Resouces.
Click HERE to view photos of "Ode to Buskers & Asheville Music" from the unveiling.
Winter Wonderland at Grove Arcade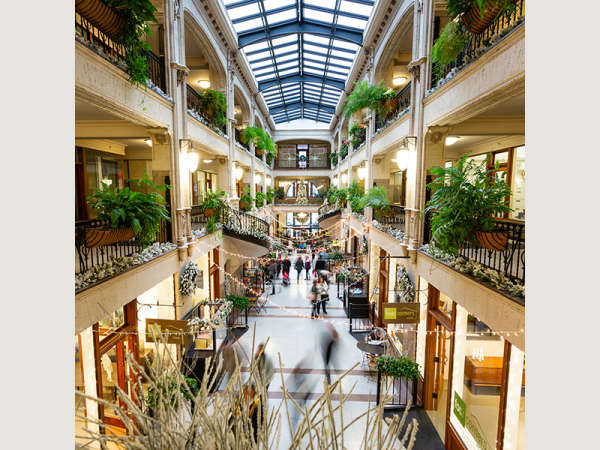 Grove Arcade is thrilled to announce the return of its annual Winter Wonderland holiday celebration.
The Arcade has transformed into a wreath-bedecked showcase for Asheville's finest local craftspeople and retailers. Smells of pine and holly will greet visitors as they tour—at a proper social distance!—Asheville's stunning art deco gem to discover one-of-a-kind, handcrafted local gifts, enjoy holiday-themed beverages and dining specials, and winter-y feels within the warm Grove Arcade halls. Specially curated Christmas standards and the most extravagant holiday decorations in town will transport visitors to a truly unforgettable winter paradise.
We will be hosting a local MANNA Food Bank Drive! Drop-off barrels will be placed around several areas of the Arcade to be collected and distributed by MANNA to help during these uncertain times.
For the enjoyment and safety of everyone, Grove Arcade will be taking appropriate COVID-19 precautions during Winter Wonderland. All visitors and employees will be required to follow the CDC's health recommendations, including social distancing and mask wearing.
Enjoy a safe and jolly visit to Grove Arcade's Winter Wonderland! And from all of us at Grove Arcade, Happy Holidays!
3-Day Whisked Away Weekend Whisk Broom Class with Mark Hendry
3-Day Whisked Away Weekend.
Friday-Sunday, December 4-6, 2020. 9am-5pm each day. 
Be prepared to get swept up in a new fiber weaving direction: historic Broom Making with Mark Hendry of Blue Ridge, GA. 
You'll be whisked away for a wonderful 3-day weekend, learning to craft various styles of stunning handmade whisk brooms with Mark Hendry of Mountain Heritage Craft.
You will learn the historic handcraft of making brooms sans machinery, as it was done in the 18th century.
Each day students will explore fun, functional & highly decorative whisk designs, plaiting techniques, ways of adding color and at least 4 different construction methods and styles, culminating in a hearty cache of whisks to take home, along with the know-how to create more on your own.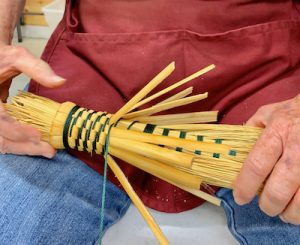 These highly useful beautiful gems of the sweeper world make fantastic gifts, as well as being very fun and satisfying to make.
All levels welcome. Some hand strength required.
Black Lives Matter mural t-shirts
This project was in partnership with the Asheville Art Museum and supported by the Asheville Area Arts Council, which joined with the Asheville Symphony in the shared belief that art captures moments in history and is a way for people to create awareness, change, and ultimately, healing.
Black Lives Matter mural t-shirts are now for sale at the Asheville Arts Museum store. The proceeds go towards mural maintenance.
Mel Chin's Wake Sculpture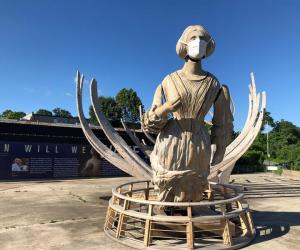 Wake, Mel Chin's giant animatronic sculpture, installed in New York City's Times Square last summer, will be on view in Asheville through March 15, 2021, at 44 Collier Avenue. Chin, a WNC based conceptual artist, was named a MacArthur Fellow in September 2019.
Wake was commissioned as part of Mel Chin: All Over the Place, a multi-site survey of his works from across many decades that took place in several New York City locations. A collaborative group, led by UNC Asheville's STEAM Studio and The Community Foundation of Western North Carolina, formed to plan and raise funds for the sculpture to be seen locally.
Wake – 60 feet long, 34 feet wide and 24 feet high, conceived and designed by the artist – was engineered, sculpted and fabricated by an interdisciplinary team of UNC Asheville students, faculty, staff and community artists led by Chin. The sculpture is interactive and features decks and places to sit and contemplate.
Wake evokes the hull of a shipwreck crossed with the skeletal remains of a marine mammal. The structure is linked with a carved, 21-foot-tall animatronic sculpture, accurately derived from a figurehead of the opera star Jenny Lind that was once mounted on the 19th century clipper ship, USS Nightingale. Jenny Lind moves subtly as she breathes and scans the sky.
Visitors can experience Wake daily from 9 a.m. to 9 p.m. at 44 Collier Avenue. For more details and a schedule of programming, visit ashevillearts.com.
Christmas at Connemara Craft-Making
On Saturday November 28, December 5, 12 and 19, music or storytelling will be offered from 10:30 am – 12:00 pm with craft-making from 10:00 am to 1:00 pm.
Live Glassblowing Demos – Handcrafted Christmas Ornaments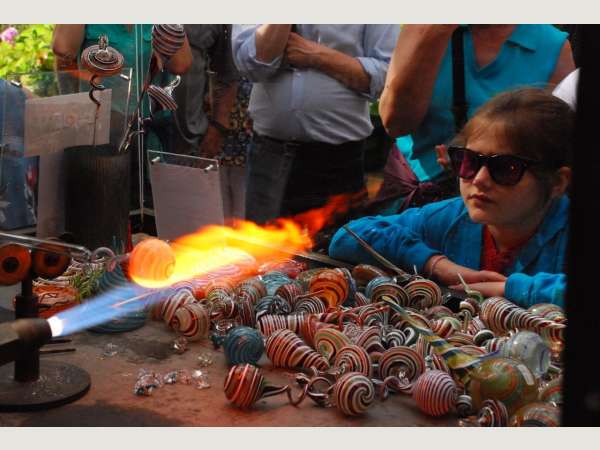 A Wonderful Family Holiday Tradition … Handcrafted Christmas ornaments by Master Scientific Glassblower Jason Probstein. 
Since 2010, the Mountain Made art gallery, in downtown Asheville, has been proud to host live glassblowing demonstrations by scientific glass blower, Jason Probstein.
This year Probstein will be demonstrating from 10:30 AM – 4:00 PM on these 3 days: Fridays, Saturdays & Mondays … starting November 20 to December 21, 2020 … Or until his gas tanks run dry!
He will be creating his unique handcrafted Christmas tree ornaments – while you watch. We invite you to bring the entire family and come by Mountain Made to watch this master scientific glassblower at work!
To learn more this and other holiday events, visit our website for more information. Or if you are in downtown Asheville, we invite you to just come by Mountain Made gallery, located at 1 Page Ave – Inside the Grove Arcade (Suite #123) to see for yourself just how great Jason and his ornaments are.
Asheville Art Museum: New Exhibition Question Bridge: Black Males
Beginning October 7, the three-hour documentary-styled art installation Question Bridge: Black Males will be on view at the Asheville Art Museum. This innovative transmedia project facilitates a dialogue between Black men from diverse and contending backgrounds, and creates a platform for them to represent and redefine Black male identity in America. The work will be on view during regular public hours from October 7, 2020 through March 15, 2021.
Question Bridge: Black Males is a project that explores critically challenging issues within the African American male community by instigating a transmedia conversation among Black men across geographic, economic, generational, educational, and social strata of American society. Question Bridge provides a safe setting for necessary, honest expression and healing dialogue on themes that divide, unite, and puzzle Black males today in the United States.
Fantastical Forms: Ceramics as Sculpture Asheville Art Museum
Left: Virginia Scotchie, Object Maker Series, 2020, glazed stoneware. Asheville Art Museum. © Virginia Scotchie. Right: Jane Palmer, Untitled, circa 1990, glazed stoneware, 41 × 14 ¼ × 21 ½ inches. Asheville Art Museum. © Estate of Jane Palmer.
The Asheville Art Museum presents Fantastical Forms: Ceramics as Sculpture on view at the Museum November 4, 2020 through April 5, 2021. The 25 works in this exhibition—curated by associate curator Whitney Richardson—highlight the Museum's Collection of sculptural ceramics from the last two decades of the 20th century to the present. Each work illustrates the artist's ability to push beyond the utilitarian and transition ceramics into the world of sculpture.
North and South Carolina artists featured include Elma McBride Johnson, Neil Noland, Norm Schulman, Virginia Scotchie, Cynthia Bringle, Jane Palmer, Michael Sherrill, and Akira Satake. Works by American artists Don Reitz, Robert Chapman Turner, Karen Karnes, Toshiko Takaezu, Bill Griffith, and Xavier Toubes are also featured in the exhibition.
Portrait Sessions Give Back To The Flat Rock Playhouse
Best of all, Porch Portraits by Suzanne will donate $15 of every session to our great friends at Flat Rock Playhouse. My goal is to raise $15,000 for the Playhouse by the end of the year so any money over and above the price of $65 will go straight to them.
Perhaps most exciting, an extremely generous Playhouse donor has agreed to a MATCHING GIFT CAMPAIGN up to $36,000.18! This incredibly generous donation draws on the magic of Chai, the Jewish belief that multiples of 18 bring good luck. Meaning that every session booked will result in at least $30 for the wonderful folks at Flat Rock Playhouse.
For decades, Flat Rock Playhouse has been opening their collective hearts and sharing their fabulous talents to bring joy and entertainment to western North Carolina. This is an opportunity to show our gratitude at a time when they really need our support.
Together, let's make magic happen! Help us kick off this campaign by contributing today.
Asheville Gallery of Art December Show 2020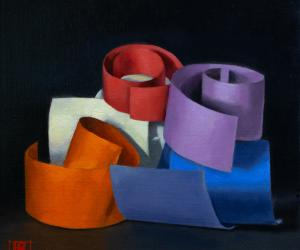 Asheville Gallery of Art's December show, "#ArtSquared," is amulti-artist show featuring a variety of original square paintings by gallery members. The show runs December 3-29 during gallery hours, 12-5 p.m. Thursday thru Sunday. You can also make arrangements for a private tour by emailing a request to [email protected]
Youth Studio at Asheville Art Museum: 3D Building (Grades 3–5)
Grab your tools and get ready to build! Using downtown Asheville's architecture and Museum artworks as our inspiration, create a cityscape of three-dimensional buildings using Model Magic, cardboard, foam, paint, fabric, wire, and more. Held indoors in the Museum's John & Robyn Horn Education Center during cold weather. Space is limited to small groups of up to eight students; face coverings and social distancing are required.
Sand Hill Artists Collective Virtual Holiday Gallery Tours!
Ten Asheville area art galleries. A new gallery experience online daily from 5-6 pm each weekday beginning December 2nd through December 15th.
Sunday, December 6, 2020
Asheville Art Museum Calling Families for Survey
Calling all families! If you visit the Museum with children and/or participate in the Museum's family programs (or plan to in the future), we want to hear from you. As we continue with virtual and small-group, in-person family programs, we need your feedback to create a model that will work for you this winter and spring. We're giving away a FREE guest pass to one of the first 50 people to fill out the survey.
Bucket List: Guide to Art Institutions in WNC
Bucket List: Guide to Art Institutions in WNC

Western North Carolina is known as the artist's enclave of the Southeast—but where should we layfolk go to enjoy the fruits of these labors? 

Here's our guide

 to enjoying art—painted, sculpted, sketched, and otherwise crafted—across the region.