Arts and Theatre
Browse through upcoming arts and theater events in Asheville, NC, including Broadway shows, musicals, plays, operas, and more.
Friday, October 30, 2020
Asheville Gallery of Art October Show 2020
Asheville Gallery of Art
October Show
"Fallscapes"
 
"Fallscapes" at Asheville Gallery of Art
 
Asheville Gallery of Art's October show, "Fallscapes," is a multi-artist show celebrating the breathtaking beauty and grandeur of fall in our mountains. The show runs October 1-31 during gallery hours, 12-5 pm, Fridays and Saturdays. You can also make arrangements for a private tour by emailing a request to [email protected]
 
For artists who live and work in the mountains of Western North Carolina, nature is a continued source of inspiration. But only one season, fall, outdoes itself in presenting us with an astounding palette of vibrant color and rich textures. While the color of the changing leaves against a Carolina blue sky in the mountains is awesome to behold, it's even more fun to paint.
 
Bee Adams and Anne Bonnyman have two distinct styles, yet, each finds unique inspiration at this time of year. "Walking in the woods in the fall is magical. The trees are lined up showing off their colors, the air is getting crisp and the leaves crunch underfoot. I try to capture the pure joy of this wonderful time," says Bee Adams. Anne Bonnyman says, "Autumn in the mountains is dazzling. On a day when the sun lights up the trees and sparkles across the water, I can't get to my canvas fast enough to tell the story."
 
Cynthia Llanes says of her painting in the show, "Memorable places are fun to paint. This painting was a view from across the lake near our cabin during our anniversary trip to Fancy Gap, Virginia." Olga Michelson says, "Fall is one of my favorite subjects. It inspires me. I love to capture the distant views with their complex, rich colors. Sally Lordeon enjoys getting into nature during the season. "Painting en plein air in the late fall is spectacular. The opulent colors in the landscape declare nature as the master painter."
 
For further information about this show, contact Asheville Gallery of Art at (828) 251-5796 during open hours. You can also email us at [email protected], visit the gallery website at www.ashevillegallery-of-art.com or find us on Facebook. Please check our website for our on-line shop and to find additional hours we will post for October.
 
Bucket List: Guide to Art Institutions in WNC
Bucket List: Guide to Art Institutions in WNC

Western North Carolina is known as the artist's enclave of the Southeast—but where should we layfolk go to enjoy the fruits of these labors? 

Here's our guide

 to enjoying art—painted, sculpted, sketched, and otherwise crafted—across the region.
Call for Sculpture Artists Tucker's Gallery Outdoor Sculpture Gallery
 by Tom Risser of Waxhaw, North Carolina
The Caldwell Arts Council and the City of Lenoir, NC seek sculptors to participate in Tucker's Gallery, an outdoor sculpture sales gallery with three-dimensional artwork mounted in 12 pedestal-planters  in downtown Lenoir for up to one year.  Artists receive stipends for delivery and retrieval of sculptural art, and sculptures may be sold with 30% commission to the Caldwell Arts Council.
Find application at website.
Calling Artists: slam poetry competition 15yrs +
Calling all spoken word artists 15 years or older
ABOUT WORDplay©
WORDplay© is a twelve month slam poetry competition featuring Spoken Word Poets from all over Western North Carolina. Each month ten to twelve Poets will be selected via video submissions, for the chance to compete for Different Strokes Performing Arts Collective's WORDplay© championship and a $1,000.00 cash prize. The monthly online competition, hosted by local Poets Barbie Angell and Shanita Jackson, is open to regional Poets who are at least 15 years of age. One Poet from each month's competition will be selected to compete in front of a live audience in the October and November 2021 Semi-Finals. Two remaining Poets will vie for the WORDplay© championship in December 2021. The second place Poet will receive $500.00. Each Semi-Finalist will receive $100.00.
We are accepting submissions for January and February rounds now through November 23, 2020. Selected Poets will be notified by December 23, 2020.
Calling for Submissions: The Breath Project/Flat Rock Playhouse
Flat Rock Playhouse is proud to partner with The Breath Project to create an archive of 8 minute and 46 second works of live theater from multidisciplinary theater artists of color who are responding to this moment in history. All submissions that meet the Breath Project guidelines will be featured in the archive, and as partners in the project, CJ Barnwell will be the curator from our theater who will help select pieces from the archive to feature in a virtual festival in Fall 2020. For those who do not have access to video recording equipment, the Playhouse is able to offer the use of the Mainstage and video recording support. If you are interested in recording on the Mainstage, please email [email protected].

To be considered for the Fall 2020 virtual festival, please submit your piece by Sept. 14, 2020. For more information on the submission process, the mission of the Breath Project and other partner theaters, visit www.thebreathproject2020.com.
Flat Rock Playhouse: Online Gift Shop Now Open
SHOP THE ROCK!
Our online gift shop is now open, and just in time for your holiday shopping. T-shirts are available in a variety of colors with Adult and Youth sizing, and we have additional apparel items like sweatshirts, hats, polos, and totes. We have unique gift options like our 50th-anniversary book with a detailed history of Flat Rock Playhouse and prints designed by some of your favorite Vagabonds.
Mandala Paintings by Jane Hennessy
Waltzing in Vienna
My mother has exclusively created these stunning wood panel paintings with exquisite detail and depth, perfect for any home! They come ready to hang with wire and have painted sides, along with standing 'off the wall' with a classic gallery depth of 2 inches. Please look at the detail of each photo to see how some of them are 'raised' a bit with her magical painting technique. For the amount of work these took, they are priced to sell! Uplift the energy in your home just in time for the holiday season.
One of These Days by Whitfield Lovell
Whitfield Lovell, One of These Days, 2006, charcoal and china on wood, 84 × 37 × 4 ½ inches. Museum purchase with funds provided by 2007 Collectors' Circle with additional funds provided by Phillip Broughton & David Smith, 2007.33.01.29. © Whitfield Lovell
Online Education Series – From Mountain Crafts to Arts and Crafts
When Charlotte Yale and Eleanor Vance arrived in Biltmore Village in 1901, they had no idea how many hundreds of young men and women they would influence over the course of the next fifty years. Together they lead Biltmore Estate Industries and Tryon Toymakers and Woodcarvers into nationally respected Arts and Crafts enterprises, providing young men and women with critical skills in woodworking, woodcarving, toy making, and weaving. This three-part video prepared by author Bruce Johnson traces their lives and their influences, offering a glimpse into their dedication to improving the lives of area young men and women.
Pandemic Arts w/ Flat Rock Playhouse
Pandemic Arts is a series "where performing artists from various genres discuss how the global pandemic is affecting their careers, their creativity, their finances, and their plans for the future." The FRP episode is live and features a candid interview with Lisa K. Bryant about the history of the Playhouse and the challenges of running a theatre during the COVID-19 pandemic. You'll also see performances by beloved Vagabonds Matthew Glover, Bill Muñoz, and Scott Treadway. Click here to watch the video!
Southern Appalachian Repertory Theatre's Fall Silent Auction Fundraiser
Southern Appalachian Repertory Theatre is a professional theatre company in residence at the historic Owen Theatre on the campus of Mars Hill University. Since its founding in 1975 by visionary director and theatre educator Jim Thomas, SART has produced scores of plays, musicals, and original works, many portraying the rich culture and heritage of Southern Appalachia. After operating for many years as a program of MHU, SART became an independent nonprofit organization in 2003 and is governed by a volunteer board of directors. In recognition of its artistic excellence and cultural importance to the community, SART has received major funding from the National Endowment for the Arts, North Carolina Arts Council, Madison County Arts Council, and the Shubert Foundation. SART also receives major support from Mars Hill University, along with donations and sponsorships from many generous individuals and business owners.
All payments for the silent auction will be made upon the conclusion of item bidding. We will reach out to our top bidders to arrange individual payments. Pick-up of all items will be held at the SART box office, by appointment only. Bidders will be responsible for shipping costs, if needed. Once we conclude the silent auction we will then schedule pickups with the winning bidders.
THANK YOU for your participation!
The Met Collection Online
Staff Picks From Around the Web Brevard Music Center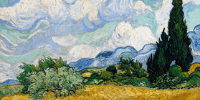 The Met Museum:
The Met Collection
Browse the Metropolitan Museum of Arts' virtual collection of masks, musical instruments, and more!
Use Your Voice – Support The Arts
Use Your Voice – Support The Arts
This May, we made the difficult decision to cancel our 2020 season due to COVID-19. The entire industry of live entertainment has been severely impacted by the pandemic, and your support is needed now more than ever by asking your representatives to support the Save Our Stages Act. Click here to easily contact your congressional representatives. 
Win A Dirty Dancing Festival Weekend Getaway!
September 24-25, 2021
Experience The Time of Your Life at the 12th annual Dirty Dancing Festival in Lake Lure, NC! Whether you've been coming for years, or always wanted to see what the hype is all about, we have a chance for you to win a weekend getaway to the namesake film's backdrop where It's all Crazy for Swayze.
DIRTY DANCING FESTIVAL GETAWAY PRIZE PACKAGE
* 2-night standard accommodations  at the 1927 Lake Lure Inn & Spa (Friday, Sept. 24 & Saturday, Sept. 25th, 2021)
* 2/weekend passes to the 12th annual Dirty Dancing Festival.
* 1/free vehicle Parking Pass for Dirty Dancing Festival weekend.
* 2/vouchers to enjoy the Dirty Dancing Festival Food Court.
* 2/tickets to the After Party on the Beach at Lake Lure Saturday night.

* Sunday Breakfast Buffet for 2 at The Veranda Restaurant located inside the Lake Lure Inn.
* Dirty Dancing Festival Merchandise (2/shirts, 2/hats, 2/cups, and extra surprises). 
* One-hour pontoon boat cruise for 2 with Lake Lure Tours.
* 2/tickets to visit and explore Chimney Rock at Chimney Rock State Park.
Proceeds benefit the Pancreatic Cancer Action Network and festival organizers, The Chamber of Hickory Nut Gorge.
Enter the raffle drawing to win a trip for 2 and stay at the 1927 Lake Lure Inn & Spa where Baby & Johnny's cabins are located, tickets to all the festivities surrounding the festival weekend, tours of the breathtaking, mountain area, and mementos to take back home with you. Each raffle offered doubles your chances to win, so go ahead and give it a try!
"Find Your Color" Photo Contest Chimney Rock
THURSDAY, OCTOBER 15 – SUNDAY, NOVEMBER 15
It's during this time of year that the mountains explode with color. Capture photos of the fall season and enter them into our "Find Your Color" Photo Contest. We'll use the winning entries on our website and Facebook album, and you'll win some fun prizes. Photos must be taken within the Chimney Rock section of the Park.
GREAT PRIZES WILL BE AWARDED TO 3 WINNING ENTRIES
Winners will be notified and announced on Chimney Rock's social media channels. F
"SHE" Exhibition at Bender Gallery
We hope this finds everyone doing well during these unprecedented times. Bender Gallery is reaching out to our followers as a reminder to visit the gallery to experience "SHE", an extraordinary solo exhibition of acrylic, charcoal, and mixed media paintings on board by figure artist Kim Goldfarb. If you are not able to visit the gallery in person, you may view a virtual tour of the exhibition on 
our website
.
Goldfarb paints expressive portraits of women and girls that connect to the viewer on an emotional level. She paints intuitively with an effortless easy gestural control allowing her to impart something of her emotion or state of mind in each of her paintings. Kim's works are a tribute to feminism and its powerful mystification. The subjects are strong and confident and are informed by the artist's own life experiences.
"SHE" runs through November 2 during regular business hours. We truly hope that you will take the time to see Kim Goldfarb's special and emotive works.
Beginner Sculpture: Personifying Clay Creations with Instructor Mike Zukoski
Wednesdays, 10am – 12:30pm
October 14th – December 9th
No Class November 25th
This class will cover the basics of ceramic sculpture. We will use introductory hand-building techniques and sculpt using solid forms, coil, and slab methods. Each student will be encouraged to bring their own ideas and we will work to bring them to life in 3D. Everyone is welcome—from complete beginners to advanced potters who are interested in learning new techniques and methods.
Levels: All Levels
Tuition: $310 +$55 Lab Fee
Beginner Wheel: Clay All Day! with Instructor Lauren Breitling
Sundays, 10am – 12:30pm
October 18th – December 13th
No Class November 29th
Want to learn how to throw on the potter's wheel? No experience? No problem! In this class, students will learn the foundations of wheel throwing. Starting with the basics and building upon them, students will gain the necessary skills to create mugs, bowls, vases, and more! There will be plenty of instruction as well as independent time to explore the mud and the studio. Join Lauren this fall for a playful and clay-full journey!
Level: All Levels
Tuition: Tuition: $310 + $55 Lab Fee
Beginner Wheel: You Can Handle It! with Instructor Shinara Taylor
Saturdays, 10am – 12:30pm
October 17th – December 12th
No Class November 28th
Have you dreamt of making a personalized mug or bowl but feel boggled by the process? Don't be nervous, every proficient potter was a beginner once—just like you. This class will boost your clay confidence with inspiring demonstrations, one-on-one instruction, and plenty of practice. Through exploration of tools and foundational techniques you'll be able to create distinct and useful pots. Each student with be encouraged to establish a strong skill base while also pursuing their individual interests and goals. Get ready to use your hands and make something you're proud of!
Level: All Levels
Tuition: $310 + $55 Lab Fee
Bigger Pots Made Easy with Instructors Gabriel Kline and Anja Bartels
Mondays, 10am – 12:30pm
October 12th – December 7th
No Class October 19th
Do you want to increase the scale of your work, but feel intimidated by large pieces of clay? The truth is, you don't have to be a big, strong person to make big, strong pots! Join Anja and Gabriel as they demystify the techniques used to produce large scale pottery. Demos will include throwing wide diameter bowls, section building skyscraper pots, centering 50-100 lbs. of clay, and creative ways to make voluminous storage jars. These techniques are simple, fun, and easy to learn. You'll be amazed at the pieces you create! The class will include plenty of studio and one-on-one time with the instructors.
Level: Intermediate and Advanced
Tuition: $310 + $75 Lab Fee*
*Includes 50lbs of clay and firing of large work
Center for Craft Sleight of Hand Exhibit
The Center is offering free, unguided visits and affordable tours of its exhibitions to the public. Guests can pre-register for a 30-minute visit to explore the current exhibitions, learn more about the Center's national impact in their Craft Research Fund Study Collection, and enjoy interactive activities.
Sleight of Hand, curated by Center for Craft 2020 Curatorial Fellow Angelik Vizcarrondo-Laboy, centralizes humor in the creative exploration of some of our most pressing contemporary social issues. On view beginning October 23 in the Bresler Family Gallery, the show highlights six artists of color currently working in mixed media, primarily clay, to approach issues like culture, race, tradition, and resilience through irreverent, absurd, ironic, cute, anthropomorphized, and eccentric objects.
In her statement about the show, Vizcarrondo-Laboy, includes two definitions for the phrase "sleight of hand": "a cleverly executed trick or deception," and "a conjuring trick requiring manual dexterity." The show's six artists draw viewers into their works through their use of whimsical forms, only to reveal deeply serious issues tied to current events and conversations. Vizcarrondo-Laboy explains, "For these artists, humor is not merely an aesthetic strategy; it is also a tool of resistance, resilience, and healing."
"We are so pleased to have supported Vizcarrondo-Laboy through the Center's 2020 Curatorial Fellowship program," says Center for Craft Assistant Director and Curator Marilyn Zapf.  "Her visionary, thoughtful, and research-driven approach to Sleight of Hand presents and contextualizes current artistic strategies and timely conversations in craft that propels the field forward."
The exhibition updates the irreverent approaches of anti-establishment Bay Area Funk artists like Robert Arneson and David Gilhooly with a new group of young, emerging artists shifting the field and future of ceramics to re-centralize makers of color within an ever-diversifying landscape of visual arts.
Artists in the exhibition include Chicago-based Salvador Jiménez-Flores, whose piece, La resistencia de los nopales híbridos (The Resistance of the Hybrid Cacti), explicitly references Arneson's iconoclastic self-portraiture, while also commenting on Jiménez-Flores' own Mexican heritage and issues facing the Latinx community. Los Angeles-based artist Diana Yesenio Alvarado slyly remixes symbols familiar from popular culture, like clowns and Disney characters, to explore the sometimes contradictory depths of human experiences, particularly in her hometown of East L.A. Iraqi-American artist Maryam Yousif's Puabi Palms Pot playfully imagines a figure of ancient history, Queen Puabi of Sumer, as a famous modern-day pop star whose visage graces ceramic vessels festooned with iconography of the Middle Eastern landscape.
Besides the ceramic works, the exhibition also features a video installation from Colombian-American artist Natalia Arbalaez, as well as a two-dimensional painted work from Mexican-American artist Yvette Mayorga, which also incorporate the history and uses of ceramics, both traditionally and experimentally.
This is the second exhibition from this year's 2020 Curatorial Fellowship recipients. Each year, the Curatorial Fellowship recognizes up-and-coming curators working at the cutting edge of craft. Three recipients organize shows at the Center for Craft as part of the Center's larger conversation around craft and its evolution. Learn more at centerforcraft.org.
Charting New Waters with Instructor Anja Bartels
Tuesdays, 10am – 12:30pm
October 13th – December 8th
No Class November 3rd
Are you curious about expressing yourself through pottery but don't know where to start? Let Anja take you on a surface design journey in this 8-week hands-on course. We will take a close look at forms and shapes that give us the best canvases to decorate before we dive deep into storytelling through illustrative Sgraffito and Mishima, adding texture with slip to create phantasmagorical creatures, and using lusters and decals to make your creations shine.
Level: Seasoned Beginner, Intermediate and Advanced
Tuition: $310 + $55 Lab Fee
THE YEAR 2020 – An Interactive Art Project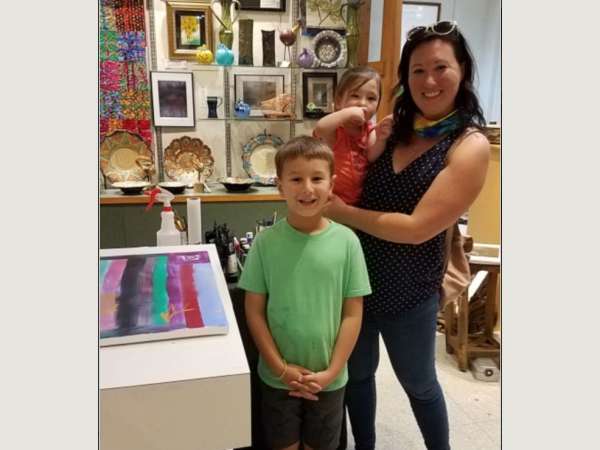 2020 A YEAR OF COVID, TURMOIL, UNCERTAINTIES, HEROES & HOPE
The year 2020 for better or worse will go down in American history as a pivotal moment. It has been often said that history is written for and by the victors.
But nowadays in a world overwhelmed with 2-second tweets, forgettable social media, conspiracy theories and online rages; modern history seems to be written by the distracted, the delusional and the destructive.
Mountain Made, a local arts & crafts boutique in Grove Arcade, is taking a different approach. We are creating a public history journal of poetry, personal musing, thoughtful insights and yes, rants on "The Year 2020". They could be funny or serious.
We have setup two interactive art stations inside the gallery:
* The first one is where you can quickly put down your thoughts on some blank paper (the original "i-pad") and leave it with us.
* The other is a shared, public painting series where you can lay brush to canvas if you are more a visual person.
We Are Open! Swannanoa Valley Museum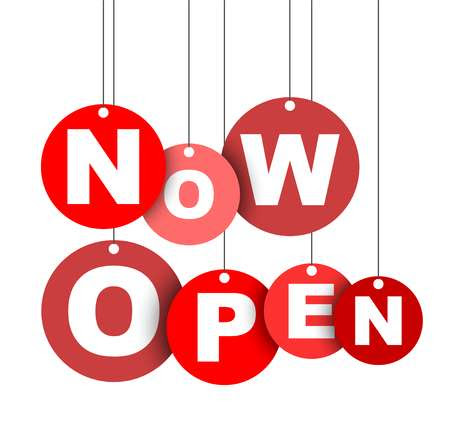 It is with great excitement that we announce our opening schedule for 2020. We have not been able to reopen since March, when the Covid -19 pandemic hit and North Carolina shut down. Now the State of North Carolina is transitioning into Phase 2.5 of Governor Cooper's phased reopening plan. Phase 2.5 allows museums to open at 50% capacity. This means the Swannanoa Valley Museum will be open starting Labor Day weekend. We will allow 10 visitors in the museum per hour. Opening hours are Thursday – Saturday from 10am – 5pm. Visitors can sign up on our website for a self-guided tour time or sign up at the museum. We are looking forward to seeing our visitors once more! To book a self-guided tour time click on this link. SVM Self-Guided Tour Reservation
COVID-19 Visiting Policy
Masks are required when entering the museum. This is for the safety of our visitors and our docents. Exceptions will be made according to ADA instructions. Visitors must make a reservation to visit the museum. Self Guided tour reservations are available Thursday – Saturday from 10am – 5pm. To make a reservation you can call (828) 669- 9566, register at the front desk, or click here. 
ACCESSIBILITY
The first floor houses our traveling exhibit gallery and our second floor houses "Our Pathways" exhibit.  The first and second floor are accessible by ADA standards.  A lift is available to take visitors to the second floor.
Asheville Art Museum 50 Years of Western North Carolina Glass Exhibit closes Nov.2
James D. & Judith S. Moore have been collecting studio glass from Western North Carolina for the past 40 years. In honor of our reopening, the Moores have generously donated or promised much of their stunning collection to the Museum. This inaugural exhibition in the Judith S. Moore Gallery highlights the beauty of their collection and illustrates the depth with which they have collected certain foundational artists in the Studio Glass Movement.
50 Years of Western North Carolina Glass is organized by the Asheville Art Museum. This exhibition is supported in part by the Judy Appleton Memorial Fund.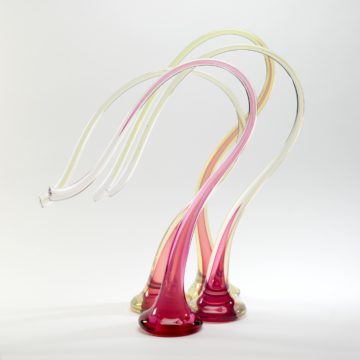 Asheville Art Museum: New Exhibition Question Bridge: Black Males
Beginning October 7, the three-hour documentary-styled art installation Question Bridge: Black Males will be on view at the Asheville Art Museum. This innovative transmedia project facilitates a dialogue between Black men from diverse and contending backgrounds, and creates a platform for them to represent and redefine Black male identity in America. The work will be on view during regular public hours from October 7, 2020 through March 15, 2021.
Question Bridge: Black Males is a project that explores critically challenging issues within the African American male community by instigating a transmedia conversation among Black men across geographic, economic, generational, educational, and social strata of American society. Question Bridge provides a safe setting for necessary, honest expression and healing dialogue on themes that divide, unite, and puzzle Black males today in the United States.
Audubon Alongside Contemporary Art in Exhibition
Adonna Khare, Pool Party, 2015, carbon pencil on paper, 6 × 20 feet. Collection of the Artist. © Adonna Khare, image Phil Hatten.
An exhibition highlighting the works of John James Audubon juxtaposed with the work of 21st-century artists who continue his tradition of animal allegories and metaphors is currently on view at the Asheville Art Museum. The exhibition features more than 40 works and will be on display in the Explore Asheville Exhibition Hall through November 30.
Portrait Sessions Give Back To The Flat Rock Playhouse
Best of all, Porch Portraits by Suzanne will donate $15 of every session to our great friends at Flat Rock Playhouse. My goal is to raise $15,000 for the Playhouse by the end of the year so any money over and above the price of $65 will go straight to them.
Perhaps most exciting, an extremely generous Playhouse donor has agreed to a MATCHING GIFT CAMPAIGN up to $36,000.18! This incredibly generous donation draws on the magic of Chai, the Jewish belief that multiples of 18 bring good luck. Meaning that every session booked will result in at least $30 for the wonderful folks at Flat Rock Playhouse.
For decades, Flat Rock Playhouse has been opening their collective hearts and sharing their fabulous talents to bring joy and entertainment to western North Carolina. This is an opportunity to show our gratitude at a time when they really need our support.
Together, let's make magic happen! Help us kick off this campaign by contributing today.
Take a Woolworth Walk on the Wild Side/Appalachian Wild Art Display
Yet another reason to love fall in WNC! The front window display of Woolworth Walk will come alive with wildlife as imagined by 17 local artists. Mark your calendars and visit Woolworth Walk in October to purchase your favorite, these works are sure to sell out fast! Not only will you go home with a beautiful piece of art, but you will be supporting the wild ones and the mission of Appalachian Wildlife Refuge!
Virtual Tours at Asheville Art Museum
Virtual Visits for Students
Groups of pre-K–12 students are invited to schedule an interactive Virtual Visit to the Museum! Led by volunteer docents with Museum staff, our inquiry-based, conversational Virtual Visits introduce the Museum's galleries with a 3D tour and challenge students to hone their observation skills. All pre-K–12 Virtual Visits make connections to the NC Standard Course of Study.
Virtual Visits for pre-K–12 groups are $50 for 5–25 participants from one or multiple devices through Zoom or Google Meet. Virtual Visits are available Monday through Friday from 9am to 4pm, and last 30–45 minutes. At least two weeks' advanced notice is required.
For more information about Virtual Visits for adults, college, and university students, click here. For Virtual Visits for family and friend groups with children, click here.